Nineteen people drown in shipwreck on Nile River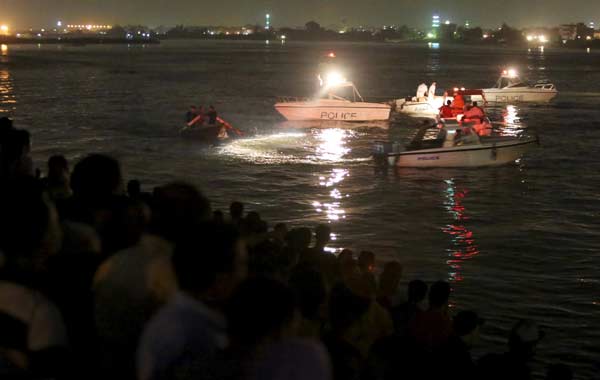 People gather along the banks of the Nile River during a search for the victims of a boat accident on the River Nile in the Warraq area of Giza, Egypt, early July 23, 2015. [Photo/Agencies]
CAIRO -- At least 19 people died Wednesday in a shipwreck on Nile River in Cairo, capital of Egypt, according to the statement from the Egyptian Interior Ministry.
The accident happened when a ferry carrying at least 30 people struck a barge and sank in the Warraq district of Giza, southwest of Cairo, at late night, said Hossam Abdel Ghaffar, the spokesman of the Egyptian Health Ministry, in a TV speech.
The spokesman also said that 16 ambulances and two rescue boats have been dispatched to the site and the search for the missing ones is still underway. The injured people have been sent to four hospitals nearby.
Eyewitnesses at the site of the accident told Xinhua that rescue boats and divers are working to search for the missing ones. However, the poor illumination and crowded river bank made the rescue work more difficult.