Chinese investment in Kenya on track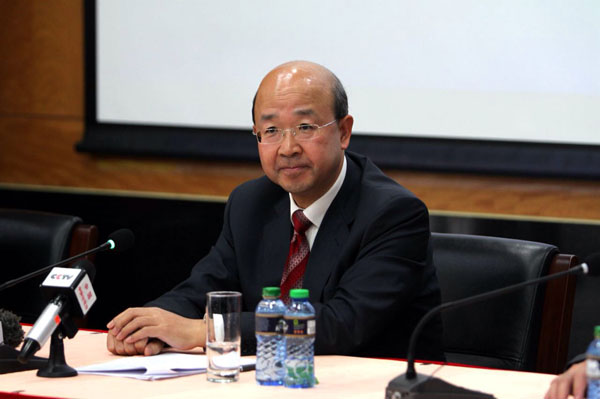 Liu Xianfa, the ambassador of China to Kenya, speaks at a news conference on June 12, 2015. [Photo/Provided to China Daily] 
The planned Sino-Africa industrial cooperation that has marked Kenya among the first beneficiaries for a test-run will concentrate on labor intensive industries to boost employment opportunities in the country.
According to the United Nations Development Program, the national unemployment rate in Kenya is about 10 percent and 80 percent of Kenya's 2.3 million unemployed are young people between 15 and 34 years of age.
Selected industries will focus on agriculture produce processing, light industries in textile production and construction materials such as cement and steel.
"This follows intensive discussions between relevant ministries in the governments of Kenya and China. The biggest beneficiaries will be the youths," Liu Xianfa, the ambassador of China to Kenya, said at a news conference held at the embassy on Friday.
On May 18, Zhang Dejiang, chairman of the Standing Committee of the National People's Congress, (NPC) held talks with Kenyan National Assembly Speaker Justin Muturi at the Great Hall of the People in Beijing. Zhang said during the meeting that Kenya is among the first African countries with which China is carrying out infrastructure, information and industrial cooperation.
Liu said, however, the industrial cooperation between the two countries is challenged by the security situation and underdeveloped infrastructure in Kenya.
He also said these efforts will go a long way in strengthening social security that is currently under threat from radicalization and extremism and help improve the infrastructure.
Economic reforms undertaken by the Kenyan government, together with its strategic regional position, make it an ideal place for the pilot project, Liu said.
"We do not foresee any difficulties in implementing this project because the country already has export processing zones where some Chinese companies are already operating," he said. "We know Chinese investors will find Kenya is full of opportunities."
Last year, 220 Chinese products were ranked first globally. Liu also pointed out that a solar energy project in Garissa will not only improve the living standards of residents in this far-flung area but will also power up businesses.
The 50MW project will be funded by the Export-Import Bank and is expected to be the largest grid connected solar power plant in the country. Feasibility studies are ongoing.
It is a joint venture between JinkoSolar Holdings and China Jiagxi Corporation for International Economic and Technical Co. Ltd.
In addition, the ambassador reassured that the slow economic growth in China will not affect its outbound investments to Africa.
"On the contrary, we will invigorate our foreign investments during this time we are undergoing transition and upgrading," the diplomat said, adding that China is keen to share its experience with developing nations and deepen cooperation.
"Our President Xi Jinping is keen to increase Chinese investment by four times by 2030, meaning that it will balloon up to $100 billion from the current $12 billion," he said.
The ambassador also announced the launch of a web portal for visa application. He said the move was necessitated by the steady increase of people travelling between China and Kenya for business and to pursue higher education.
"The portal will increase convenience and efficiency while cutting down waiting time," Liu said.