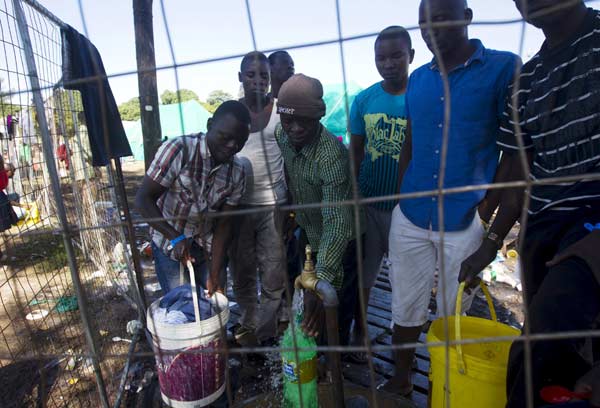 Foreign men queue to board queue for water in a camp for those affected by anti-immigrant violence in Chatsworth north of Durban, S Africa, April 21, 2015. [Photo/Agencies]
JOHANNESBURG -- Hundreds of immigrants have been repatriated to their home countries following xenophobia attacks, Home Affairs Minister Malusi Gigaba said on Tuesday.
These foreigners, estimated at 906, went home voluntarily, Gigaba said at a press briefing in Alexandra, north of Johannesburg.
"Yesterday we had 906 people who had been repatriated voluntarily, some of them who had registered themselves for voluntary repatriation, changed their minds when the buses arrived, " the minister said.
"I don't have the full figures but I will have them later today. "
Gigaba said he would update the figure "once we know of the exact numbers of the people who have left the country."
Repatriation are currently taking place in several camps housing displaced foreigners in Durban, Gigaba said.
Most of those repatriated are Zimbabweans and Mozambicans, according to sources.
The Zimbabwean embassy in South Africa has repatriated 407 of the country's nationals who wanted to return home since Sunday, embassy official Tamuka Muranga said.
"But that is not a final figure as there may be more wishing to go. The process is not complete."
Muranga said Zimbabwean ambassador Isaac Moyo was in Durban talking to Zimbabwean expatriates about their concerns in the wake of the attacks which has left at least seven dead and displaced thousands in the past three weeks. "He is in the Durban area, talking to people in the shelters" set up to house foreigners displaced by the violence, Muranga said.