Zulu King calls for an end to xenophobic violence in S. Africa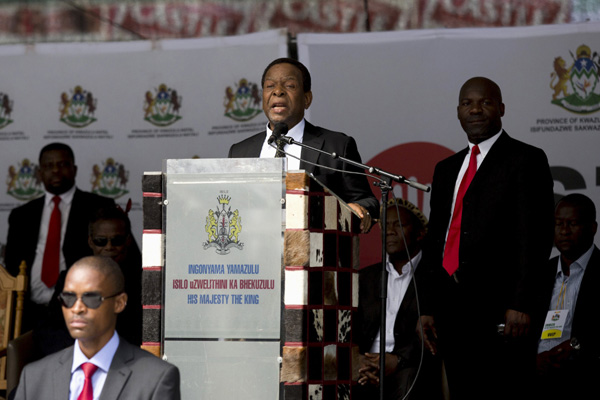 Zulu King Goodwill Zwelithini addresses a meeting in Durban, April 20, 2015. South Africa's influential Zulu King Zwelithini on Monday described recent anti-immigrant attacks as "vile". [Photo/Agencies]
CAPE TOWN - Zulu King Goodwill Zwelithini has called for an end to recent violence against foreigners that has swept parts of South Africa.
"Peace must be first and foremost," Zwelithini said at a rally in the eastern port city of Durban where the fresh outbreak of attacks started.
At least seven people - three South Africans and four foreign nationals - have been killed and thousands displaced in the violence.
"We have not learnt from the mistakes of the past," he said, citing previous outbreaks of xenophobic violence in South Africa.
The king said those violating the law should be brought to justice and urged a reconciliation between local people and migrants.
"The foreign nationals who are inside KwaZulu-Natal (province), we also invite them to come forward. We would like to sit down with them to build relationships," he said.
Zwelithini also said there was "a third force" behind the violence but didn't identify the "force."
The king has come under fire for fuelling the attacks after he allegedly said "foreigners should leave the country" in a speech in March. He again denied the allegations, saying "he was misinterpreted and misquoted."
"The speech I made was taken out of context by the media and it is now important to explain and clarify," he said.