13 soldiers, civilian killed in anti-govt bombings in Egypt's Sinai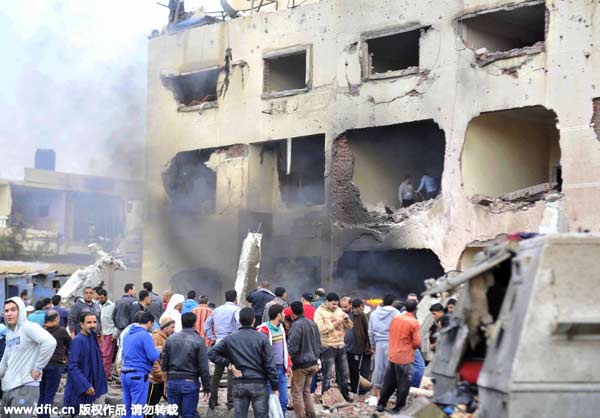 Egyptians gather at the site of a massive bomb attack on one of the main police stations in al-Arish, Sinai, Egypt, April 12, 2015. [Photo/IC]
ARISH, Egypt - Two bloody bombings in Egypt's North Sinai province on Sunday killed 13 army and police personnel and one civilian, as well as injured some 47 others.
A suicide bomber driving a car packed with explosives hit a main police station in North Sinai city of al-Arish, killing eight people, critically injuring at least 45 others and damaging a number of neighboring houses, security and medical sources told Xinhua on condition of anonymity.
The Interior Ministry said the eight killed people included seven policemen and one civilian.
Rescue workers and firefighters rushed to the scene, while police officers sealed off the street where the attack happened. The attorney general also ordered an investigation into the attack in order to uncover the perpetrators.
The bombing came a few hours after six army soldiers were killed when a roadside bomb in a military zone in North Sinai city of Sheikh Zuweid hit an army armored vehicle carrying off-duty soldiers from their camp.
Earlier in the day, a booby-trapped car exploded near a Coptic Church in Zagazig city, north of the capital Cairo. No injuries or damages were reported.