Two wrong feet in China and India
Updated: 2014-07-18 09:45
By Satarupa Bhattacharjya (China Daily)
Comments
Print
Mail
Large
Medium
Small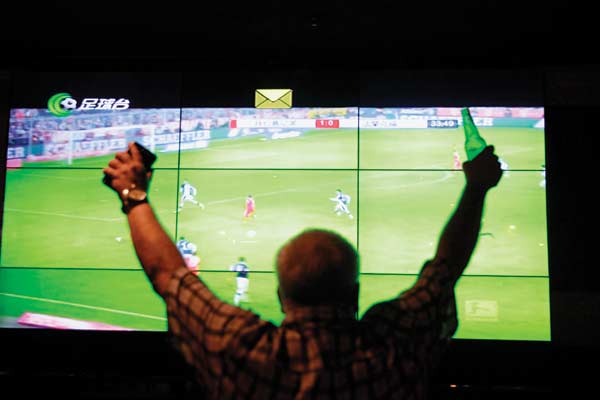 A football fan cheers in front of a screen. [Photo by Gao Erqiang / Shanghai Star]
The great depression has struck. It is sweeping through vast swaths of land on both sides of the Himalayas, drowning in sorrow a sizable chunk of humanity.
Lest you be alarmed, this isn't about melting glaciers or economic downturns. It is only how I imagine many soccer fans in China and neighboring India are viewing the end of the FIFA World Cup 2014.
The "biggest show on earth" has entertained people in the world's two most populous countries as much as it has elsewhere. But the televised tournament also kindled hope in these two nations that someday their teams will qualify for the World Cup.
China and India are high on fans (both nations seldom face a problem with numbers) but low - very low - in international soccer ranking.
China stands at 94 and India at 151 in FIFA's latest list.
China is a top medal winner in individual games at the Olympics and at least two of its tennis and basketball stars are global celebrities. India is a dominant force in world cricket and was a longtime field hockey champion. But neither country has been able to find a foothold in world soccer.
I have wondered why as I wandered through the many sports bars of Beijing in the past month, munching on fries while supporting Argentina. Yes, Lionel Messi and his men's loss at the final match against Germany left me heartbroken.