Chinese premier meets Latvia's president in Milan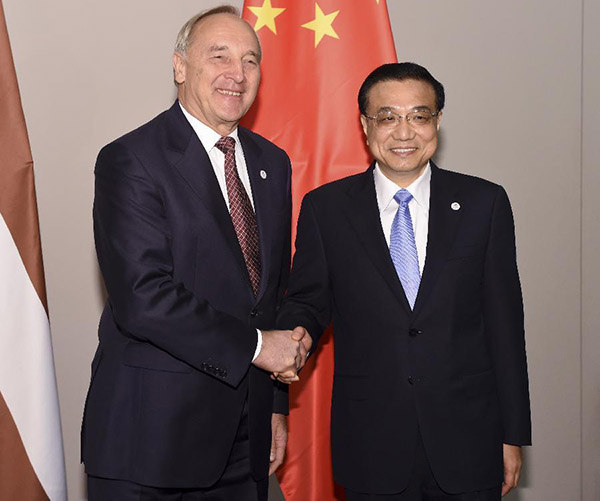 Chinese Premier Li Keqiang, right, meets with Latvia's President Andris Berzins, in Milan, Italy, Oct. 17, 2014. [Photo/Xinhua]
MILAN - Premier Li Keqiang met with Latvian President Andris Berzins in Milan on Friday.
The meeting took place on the sidelines of the 10th Asia Europe Meeting (ASEM) Summit held from Thursday to Friday.
While meeting with Berzins, Li conveyed Chinese President Xi Jinping's greetings to him. Hailing the progress of bilateral ties over the years, Li called for joint efforts to maintain sound momentum of China-Latvia relations and expand cooperation in such areas as high-speed railway,agricultural products processing and cultural exchanges.
Latvia will hold the European Union (EU) rotating presidency in the first half of next year. Li said China hopes to work closely with the country to promote stable growth of China-EU ties.
The Chinese premier hoped Latvia to play a larger role in boosting China-EU ties as well as cooperation between China and Central and East European countries (CEEC).
Speaking highly of cooperation with China in such areas as economy, trade and culture, Berzins vowed stronger ties with China and positive participation in CEEC-China cooperation as well as in the building of the Silk Road Economic Belt.