China, Italy agree to further promote partnership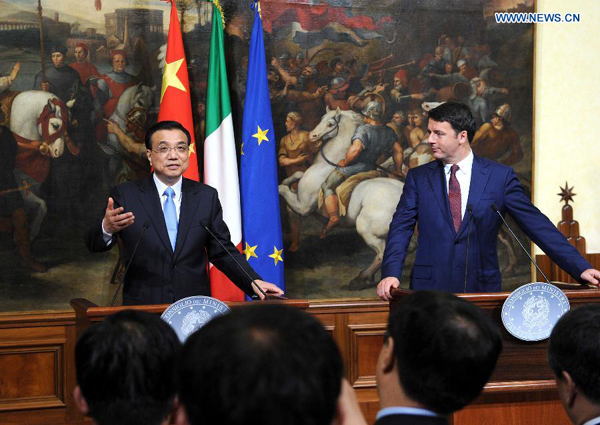 Chinese Premier Li Keqiang (L) attends a joint press conference with his Italian counterpart Matteo Renzi after their talks in Rome, Italy, Oct 14, 2014. [Photo/Xinhua]
ROME - Visiting Chinese Premier Li Keqiang and his Italian counterpart, Matteo Renzi, held talks in Rome Tuesday and reached broad consensus on comprehensively promoting bilateral ties.
The two countries have developed their relations on a fast track since they forged a comprehensive strategic partnership in 2004, Li said, voicing the hope that the partnership could be further strengthened in the coming decade.
The Chinese premier urged the two sides to earnestly implement the China-Italy three-year action plan for economic cooperation, push forward practical cooperation in such areas as high-end manufacturing, creative design and aerospace, and expand bilateral trade.
China is willing to import more competitive products from Italy, Li said, while urging Italy to transfer more technologies to China.
The two countries should strengthen cooperation in infrastructure construction, energy and financial services, enhance industrial connection and increase two-way investment, Li said.
He added that the Chinese government will continue encouraging Chinese companies to expand investment in Italy and hopes that the Italian side will boost legal and policy protection for Chinese companies and workers and facilitate their operations and stay in Italy.
The two sides should help small- and medium-sized competitive enterprises expand cooperation in advanced technology and emerging industries, give full play to the role of bilateral mechanisms such as the China-Italy innovation forum, and carry out innovative cooperation in major sci-tech projects in such fields as smart cities, energy, environment and bio-medicine, Li said.
He also suggested that the two countries expand exchanges in education, tourism and other fields, and enhance coordination and cooperation on international and regional affairs.
China welcomes a stable, united and prosperous European Union (EU), Li said, while urging Italy to continue playing a constructive role in promoting China-EU ties, which are now at a crucial stage of quality and efficiency improvement.
China supports Italy in hosting the 10th Asia-Europe Meeting summit in Milan, and is willing to make concerted efforts with Italy to push forward peace, security, development, prosperity and cooperation in both Asia and Europe, he added.
Renzi expressed full agreement with Li's proposal on further developing China-Italy relations, saying that Italy attaches great importance to bilateral ties and would like to fully expand cooperation with China in such fields as trade and economy, two-way investment, energy, science and technology and culture.
He said China is welcome to actively participate in the 2015 Milan World Expo and Italy wishes the China Pavilion a splendid success.
Italy welcomes more Chinese investment and tourists and will offer convenience for them, the prime minister said.
Italy, he added, supports cooperation between Europe and China as well as that between Europe and Asia, and will maintain close communication and coordination with the Chinese side on major international issues.
After their talks, the pair witnessed the signing of a series of bilateral deals.
Italy is the last stop of Li's ongoing three-nation tour, which has taken him to Germany and Russia.