Italy touts land of 'surprises'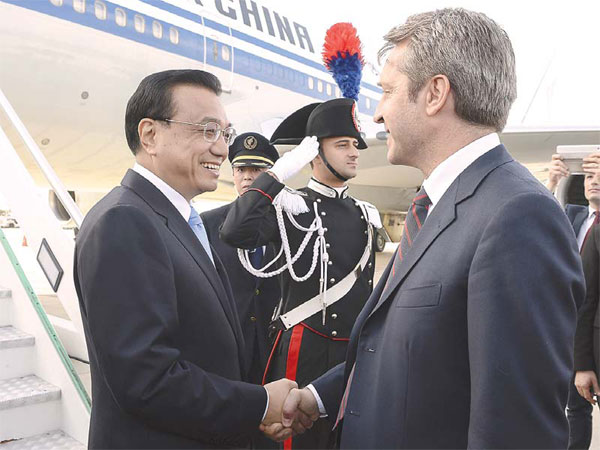 Premier Li Keqiang is greeted by a senior Italian official at an airport in Rome on Tuesday. Li will attend a summit of European and Asian leaders and other business events in Milan before concluding his weeklong European visit.  Li Xueren / Xinhua
Italian Ambassador to China Alberto Bradanini said he hopes Premier Li Keqiang's visit this week will not only produce more exports to China but encourage Chinese tourists to take longer vacations in the "country of surprises".
The premier landed in Italy on Tuesday following a three-day visit to Russia.
Li will visit the headquarters of the Food and Agriculture Organization of the United Nations in Rome on Wednesday and attend the 10th Asia-Europe Meeting in Milan from Thursday to Friday.
More than a million Chinese travelers visit Italy every year, said Bradanini, who hopes Chinese tourists book lengthier visits to the country.
In addition to promoting tourism, Italy will pitch its exports to China, he said.
"We have noticed that the Chinese government has set some priorities in its economic development plan. These priorities are urbanization, environment, health services, agriculture and also aerospace and aviation. Italy possesses very high capacity in these areas, so we believe that we can contribute to the achievement of the economic goals of the Chinese government," Bradanini said.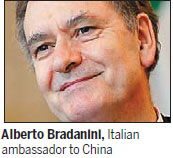 On June 11, Ningbo, Zhejiang province, signed an agreement with Invitalia, the Italian agency that promotes inward investment to the country, to establish an industrial park in the eastern Chinese city.
As part of the plan, the park aims to select companies from Italy and other European countries to develop manufacturing in the medical equipment and high-precision tools sectors, according to the Yuyao Economic Development Zone in Ningbo.
There is also an industrial park in neighboring Jiangsu province to attract investment from Italy and other countries.
Such industrial parks help Italian companies not only to exchange knowledge and skills with Chinese counterparts, but more importantly, to target the Chinese market, Bradanini said.
"The phase when foreign companies come to China to invest, to produce in China and to export to Europe or the United States is over. ... The companies should come here to work with local partners, to explore the local market as well as international markets," he said.
As of June, Italy had invested more than $6 billion in China, which in turn has invested more than $1 billion in Italy and created more than 2,000 jobs in the country.
Bradanini said Italy wants to attract more Chinese investment in Italian production and infrastructure. Currently, he said, Chinese capital has targeted mainly the Italian stock market and treasury bonds.
To attract investment, the Italian government has invited financial institutions from China to visit and "update their knowledge of the Italian financial and economic environment".
"We want to make the business environment in Italy very competitive," he said.
wangqingyun@chinadaily.com.cn