China, Germany pledge closer co-op in innovation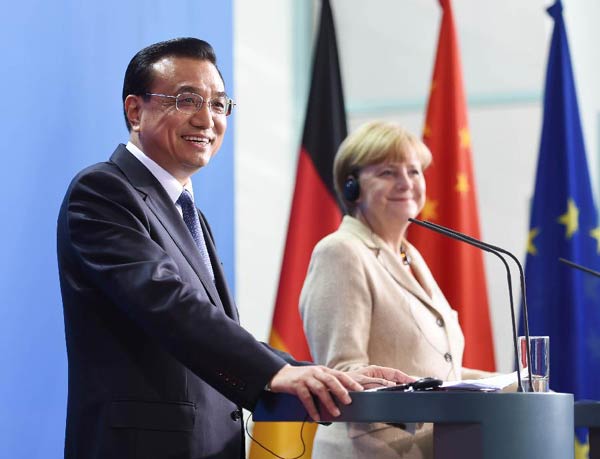 Chinese Premier Li Keqiang (L) and German Chancellor Angela Merkel attend a joint press conference after the third round of bilateral governmental consultations in Berlin, Germany, Oct 10, 2014. [Photo/Xinhua]
BERLIN -- Chinese Premier Li Keqiang and German Chancellor Angela Merkel agreed Friday to put emphasis on innovation cooperation so as to further promote bilateral ties.
They made the pledge at a joint press conference after co-chairing the third round of bilateral governmental consultations, during which the two sides vowed to lift their all-dimensional strategic partnership to higher levels.
Referring to a just released comprehensive action plan on bilateral cooperation, Li said the document lays out a strategic blueprint for the two countries to deepen their cooperation in various fields in the next five to 10 years.
As the world economic recovery still faces some uncertainties, Li said, China is willing to join hands with Germany to strengthen strategic communication and coordination, explore investment and trade potentials and boost cultural and people-to-people exchanges.
The two sides, he proposed, also should forge an innovative partnership, enhance innovation cooperation in the industrial sector in particular, further raise the standard of bilateral cooperation, and achieve more fruitful results.
Noting that China and the EU recently reached consensus on the anti-subsidy case involving Chinese wireless communication equipment, Li said he hopes that the two sides will find a solution as soon as possible.
The two sides should stick to the approach of resolving disputes through dialogue and pursue win-win development by promoting cooperation, added the premier.
Merkel, for her part, said the two sides have conducted extensive and candid exchange of views and carried out in-depth cooperation in such fields as politics, economy, peace and security.
The increasingly close ties between China and Germany and the fruitful results of their governmental consultations are important embodiments of China-Germany innovation cooperation, she said, adding that prioritizing innovation cooperation will vigorously push forward the development of bilateral ties in the future.
Germany welcomes China's participation as a major partner in CeBIT 2015 in Hanover as well as more Chinese investment and tourists, and will provide more convenience in visa application and other areas, the chancellor said.
Germany supports the signing of a China-EU investment agreement as soon as possible and further expansion of cooperation, as China-EU cooperation is mutually beneficial, she added.
Li arrived here Thursday for a three-day official visit to Germany, the first leg of his three-nation tour, which will also take him to Russia and Italy.