Li says China able to keep around 7.5% growth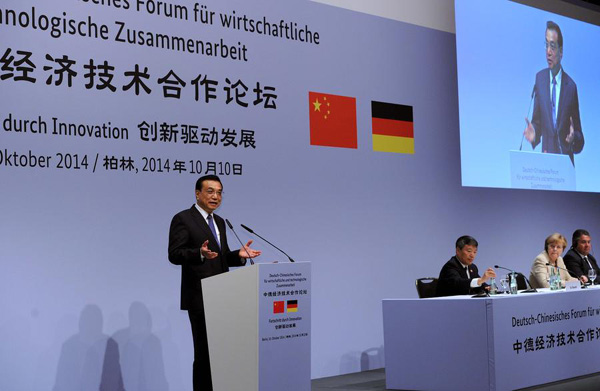 Premier Li Keqiang delivers a speech at a China-Germany economic and technological cooperation forum in Berlin, Germany, on Friday. [Photo/Xinhua]
BERLIN - Chinese Premier Li Keqiang said here Friday that his country has the conditions and capability to achieve an economic growth of around 7.5 percent this year.
China can keep its economic growth rate within a "reasonable range," he told over 600 officials and business leaders at a China-Germany economic and technological cooperation forum.
A pace around the 7.5 percent target -- whether slightly higher or lower -- will be acceptable as long as employment is guaranteed, household income raised and quality and efficiency improved, added the premier.
Meanwhile, he reaffirmed Beijing's commitment to the opening-up policy, stressing that opening-up is a basic national policy related to China's development and destiny.
China's opening-up policy, he said, is aimed at mutual benefit and all-win results and brings benefits not only to China but also to the whole world.
The premier added that China will open up to the outside world in a more active manner and on even deeper and higher levels and that besides manufacturing the service sector will also be opened at a faster pace.
China, he said, will ensure a normative, fair and transparent business environment and treat Chinese and foreign enterprises equally in terms of market access, policy support and protection of legitimate rights.
Li also told the audience that China and Germany have become a community of intertwined interests with mature bilateral relations and deeply integrated economies.
China and Germany, he added, will keep enhancing their cooperation on innovation in the future, which will create better conditions to boost economic growth and bring prosperity to both countries.
In her speech at the forum, German Chancellor Angela Merkel said that by establishing an innovative partnership, Germany and China can achieve new momentum in their future cooperation and respective development.
Germany is a reliable investment destination for Chinese enterprises, she said, pledging that her country will offer Chinese companies a good investment environment.
Li arrived here Thursday for his second official visit to the European nation since he took office in March last year. So far Germany is the only country Li has visited twice as premier.