China, Russia reach another energy milestone
Updated: 2014-11-09 21:25
By WU JIAO and ZHANG YUNBI (chinadaily.com.cn)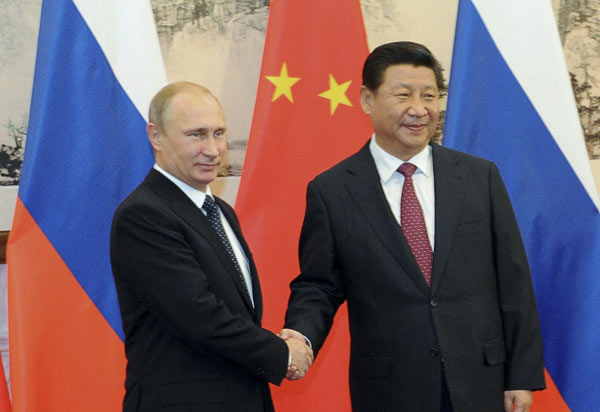 Russia's President Vladimir Putin (L) and Chinese President Xi Jinping pose for a photo ahead of a meeting in Beijing, Nov 9, 2014. [Photo/Agencies]
President Xi Jinping and Russian counterpart Vladimir Putin signed another two key energy deals on Sunday, signaling the increasingly close ties between the two neighbors.
Following a warm meeting between Xi and Putin, the two leaders signed more than 10 agreements, including the early start of a China-Russia natural gas pipeline.
The West Route, as it is known, begins in the Altai area of Northwestern China's Xinjiang Uygur autonomous region and is expected to be completed in 2020. The pipeline will provide 30 billion cubic meters of natural gas every year to China, sources told China Daily.
In May, the two sides sealed an historic deal to construct the East Route of the China-Russia gas pipeline, meaning that in a 30-year period starting from 2018, Russia will export 38 billion cubic meters of gas to China through the pipeline every year.
Gas supply from the two routes, if both put into use, will account for about 40 percent of the total 169.2 cubic meters of natural gas consumed by the country last year.
In early September, Vice-Premier Zhang Gaoli and Putin jointly witnessed the welding of the first section of East Route in the Russian portion.
In mid-September Xi and Putin called for an early start to work on the West Route as they met on the sidelines of a regional summit. Observers marveled that the government agreement on the West Route was reached in such a short time.
Another major oil agreement inked on Sunday will introduce a Chinese oil giant into the crude oil production sector in Russia.
China National Petroleum Corporation purchased a 10 percent share of Vankorneft, the upstream subsidiary of Russian oil giant Rosneft and operator of the lucrative Vankor oil field.
Vankorneft will supply China oil worth an estimated $7 billion each year, sources said.
Previously, Vice-Premier Zhang Gaoli had met with Rosneft chief Igor Sechin on Oct 31 to pave the way for the meeting between Xi and Putin on Sunday.
Chen Yurong, a senior researcher at the China Institute of International Studies, said the expanding megaprojects not only contribute to Russia's plan of diversifying energy exports and boosting development of the Far East, but also "resonate with China's increasing demand for energy security".