Xi calls for anti-graft co-op between China, Canada
Updated: 2014-11-09 20:07
(Xinhua)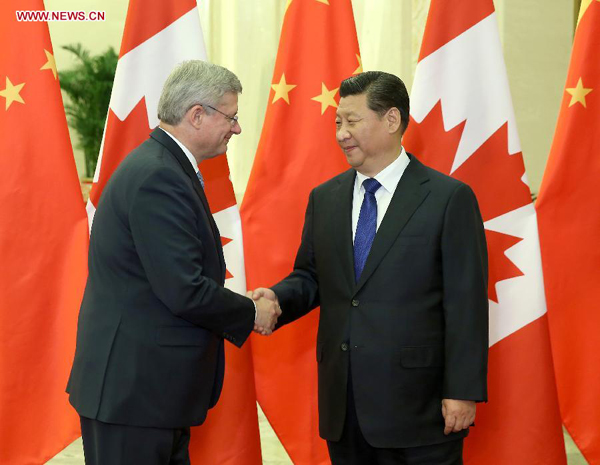 Chinese President Xi Jinping (R) meets with Canadian Prime Minister Stephen Harper at the Great Hall of the People in Beijing, capital of China, Nov 9, 2014. [Photo/Xinhua]
BEIJING - Chinese President Xi Jinping on Sunday called for strengthened law enforcement cooperation between China and Canada in hunting down fugitives at large and recover their ill-gotten assets.
Xi made the remarks when meeting with Canadian Prime Minister Stephen Harper who is in Beijing for a five-day official visit to China and to attend events related to the Asia-Pacific Economic Cooperation (APEC) meeting.
China in the middle of a popular anti-corruption campaign is seeking to widen the campaign to those who have fled abroad in what it called the Fox Hunt 2014 operation, to "block the last route of retreat" for corrupt officials.
Noting that China's ongoing anti-graft drive is still picking up momentum, Xi said law enforcement cooperation between China and Canada - a popular destination for suspected Chinese economic criminals - should be further enhanced.
Harper said Canada has no intention to "harbor fugitives", and is willing to collaborate with China in their repatriation.
Earlier reports said an anti-corruption proclamation had been adopted at the APEC Ministerial Meeting that ended Saturday, as ministers agreed to set up a law enforcement network to allow for cross-border cooperation in the anti-graft field.
A statement from the disciplinary watchdog of the Communist Party of China (CPC) also confirmed later on Saturday that the anti-graft network which promotes cooperation in cracking down on corruption, bribery, money laundering and illegal trade among APEC economies had already started operation.
Calling Harper's China tour a fruitful visit, Xi Jinping said the two sides had reached a series of consensus and agreements on bilateral ties and established mechanisms of foreign ministers' annual dialogues and economic and financial strategy dialogues.
They also agreed to strengthen energy and resources cooperation, expand collaboration in the financial field, and affirmed the China-Canada culture exchange year in 2015 and 2016.
Both sides should fully implement the agreements, take into account core interest and major concerns of each other, enhance exchanges, deepen mutual trust and cooperation, and strengthen communication and coordination on major international issues, in order to push forward the sound development of Sino-Canadian ties, Xi said.
Harper, in the meantime, said bilateral ties between Canada and China is of increasing importance to Canada, adding that he is looking forward to future cooperation between the two countries.
Canada is willing to enhance collaboration with China in combating terrorism and pushing for proper settlement of regional hot-spot issues, he said.
The country is also ready to step up dialogues with the Chinese side to elevate trade and investment as well as Renminbi (RMB) clearing settlements, and to reinforce people-to-people and cultural exchanges, he said.