Canada becomes first yuan clearance hub in Americas
Updated: 2014-11-09 07:35
By ZHAO YINAN/ZHANG YUNBI (China Daily)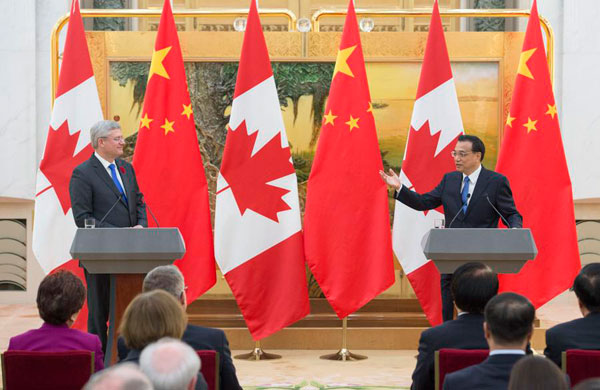 Premier Li Keqiang (R) and Canadian Prime Minister Stephen Harper jointly meet the journalists after they hold talks in Beijing, Nov 8, 2014. [Photo/Xinhua]
China and Canada agreed to a currency swap worth 200 billion yuan (US$32.6 billion), making the country the first yuan clearance hub in the Americas, part of $2 billion in deals signed on Saturday.
Deals being inked after Premier Li Keqiang's meeting with Canadian Prime Minister Stephen Harper also include aviation and nuclear energy cooperation, better access to China for Canadian agricultural products and the purchase of Bombardier regional jets.
Under a memorandum of understanding, the countries will help set up the clearing banks, and allow the two banks to swap currencies to ease trade and investment. The yuan clearing bank would be the first in the Americas, and allow Canadian financial institutions to use the clearing bank to process payments for their customers in yuan.
The currency-swap deal came with another major financial cooperative agreement giving Canadian investors the right to invest up to 50 billion yuan initially in China's capital markets. That will be put under the Renminbi Qualified Foreign Institutional Investor scheme, which will allow financial institutions to use offshore yuan to invest in the mainland's securities markets, including in stocks, bonds and money market instruments.
The move is in line with Beijing's ambition to promote its currency to more international investors and eventually turn the "red-back" into a global reserve currency, while at the same time expanding China's already considerable political and economic clout.
C.J. Gavsie, managing director of foreign exchange sales at BMO Capital Markets, said: "This is a fantastic announcement for Canada and China relations, a terrific move for Canadian businesses to be able to compete more abroad, not only direct-to-China investment but ... as more RMB/CNY activity takes place around the world."
Harper, leading a large business delegation, made a five-day visit to China under strong impetus from Canadian commercial and financial sectors, hoping to repair some minor rifts in the relationship and significantly boost trade between the countries.
According to a news release from the prime minister's office, his trip will focus on increasing trade and prosperity in addition to strengthening people-to-people ties and deepening bilateral relations to best represent Canadian values and interests.
That partly explains Harper's unusual schedule, which took him first to Hangzhou, Zhejiang province, where he met Jack Ma, chairman of Alibaba Group, before addressing a business forum and then flying to Beijing on Friday.
Harper's trip has seen Chinese e-commerce juggernaut Alibaba agree to help sell 200,000 Canadian lobsters next week and China's regional carrier China Express Airlines to purchase 24 Bombardier regional C series jets.
In addition, China National Nuclear Corporation and Canada's Candu Energy will set up a joint venture on nuclear energy development.
Jin Canrong, deputy dean at the School of International Studies at Renmin University of China, said that in the past few years the relationship has not been "in the best shape", and although bilateral trade is going well, the political relationship more or less overshadowed the cooperative agenda.
Currently, Canada has a trade deficit with China of approximately $31 billion.
"China does not deliberately pursue trade deficits and is willing to import competitive products from Canada," Li said at a news conference after the meeting.
Reuters contributed to this story.
Related:
China, Canada to boost cooperation
China, Canada ink currency swap deal