Nigerian president calls for sustained war against Ebola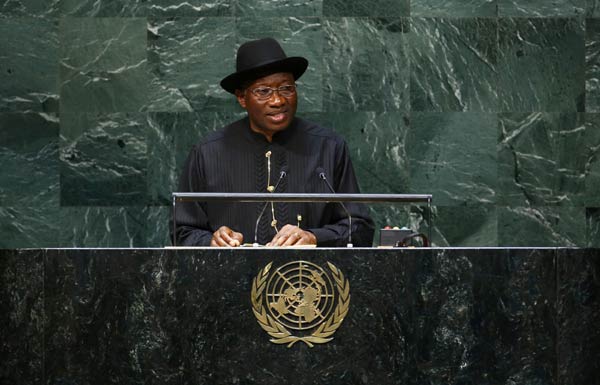 Nigerian president Goodluck Jonathan addresses the 69th United Nations General Assembly at the U.N. headquarters in New York September 24, 2014. [Photo/Agencies]
LAGOS -- Nigerian President Goodluck Jonathan has urged for a sustained war against Ebola Virus Disease (EVD) following the declaration of Nigeria as Ebola-free by the World Health Organization (WHO).
The Nigerian leader, while reacting to the declaration, dedicated the certification to patriotic health workers, volunteers and ordinary Nigerians who supported government to defeat the virus.
WHO's certification came through its representative, Rui Gama Vaz, Monday in Abuja, Nigeria's capital city, after the West African nation's six weeks with no new cases.
President Jonathan said Nigeria's globally-acclaimed success against Ebola was a testimony to what Nigerians could achieve if they set aside their differences and work together.
The president urged all Nigerians to remain fully alert and vigilant to guard against a re-entry of the virus.
He shared the view of the WHO that the war will only truly end when West Africa, Africa and the world are declared free of Ebola.
The first confirmed Ebola case in this country was reported on July 23 after an infected Liberian air traveler who landed in Lagos, the most populous city in Nigeria, and collapsed in the airport.
WHO said that the index case, who died days later, concealed the vital information of his previous direct contact with an Ebola patient during the treatment at a local hospital in Lagos, and led to several doctors and nurses getting infected, with four of them having died.
Nigeria reportedly had 20 cases in total, of whom eight died.
Related stories:
Nigeria declared Ebola-free after containing virus