Lesotho PM flees to South Africa after military coup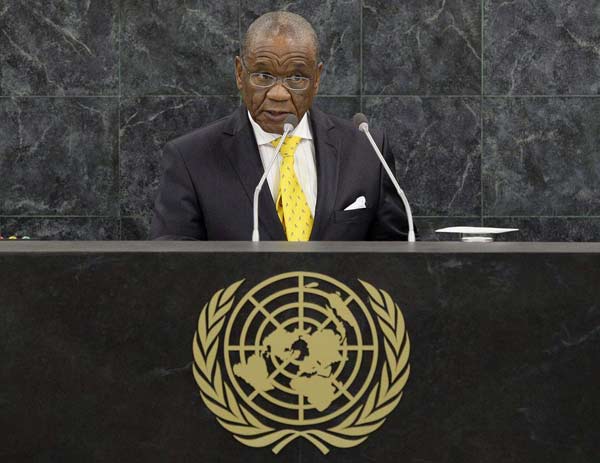 Lesotho's Prime Minister Thomas Thabane addresses the 68th United Nations General Assembly at UN headquarters in New York in this Sept 26, 2013 file photo. Thabane on Aug 30, 2014 accused his country's army of staging a coup against him and fled to neighbouring South Africa, which condemned the military's action and called for a peaceful settlement. [Photo/Agencies]
JOHANNESBURG - The situation in Lesotho remained tense on Saturday after a possible coup that sent Prime Minister Tom Thabane going into hiding.
Early Saturday morning, the military surrounded and then seized the police headquarters and the Mabote police station in the capital of Maseru, claiming that police officers intended to pass arms and ammunitions to Thabane's All Basotho Convention, called "Under the Tree" (UTTA).
Sports minister and leader of the Basotho National Party Thesele Maseribane said it was a possible coup attempt in the mountainous kingdom, an enclave surrounded by South Africa.
Military personnel were seen driving around the residences of the prime minister and other government officials, residents in the area said.
Heavily-armed soldiers also surrounded State House and occupied the main headquarters of the police force in Mabote, which is loyal to Thabane.
An exchange of gunfire was heard and five people were reportedly injured.
The gun-fight came after Thabane had removed the army commander, Lt.-Gen. Kennedy Tlali Kamoli, a source told Xinhua. However, the army said Kamoli was still in charge of the military.
The military also jammed radio stations and TV programs, and cut off phone lines, Maseribane said.
The prime minister also said the military actions amounted to a coup.
"It is a military coup because it is led by the military. And the military are outside the instructions of the commander in chief, who is myself," Thabane said in an interview with South Africa's ENCA TV.
"I have been removed from control not by the people but by the armed forces, and that is illegal," Thabane said, adding that he will return to his country as soon as his life is safe.
An anonymous Lesotho official told Xinhua that Thabane "had gone to the South African Development Community (SADC)", seeking intervention from SADC.
But the military downplayed the apparent coup, saying it seized two police stations to secure the country, and the situation in the capital is back to normal.
The military said its soldiers had returned to barracks, with peace and calm resumed in Maseru starting from noon.
An army spokesman Captain Ntlele Ntoi said the military "supports the democratically elected government of the day."
Ntoi said the military is empowered to prevent terrorism, internal disorder and threats to essential services.
"As we speak now, the situation in Lesotho, in the capital, is back to normal. It's business as usual," said Ntoi.
Some shops remained closed and daily necessities were out of stock in most shops, a diplomat in Maseru told Xinhua.