South Africans vote, ruling party favored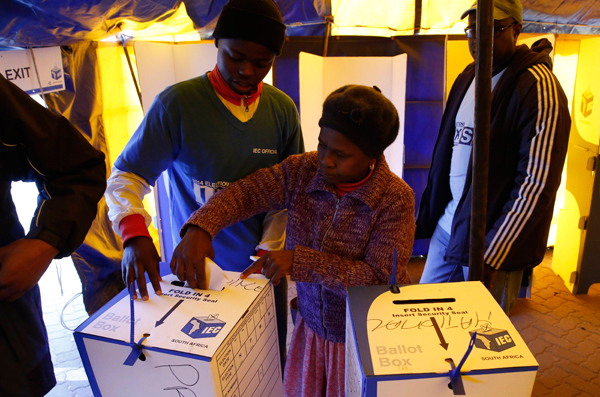 Voters cast their ballots in Bekkersdal, near Johannesburg May 7, 2014. South Africans voted in the first "Born Free" election on Wednesday, although polls suggest the allure of the ruling African National Congress as the conqueror of apartheid will prevail even among those with no memory of white-minority rule. [Photo/Agencies]
JOHANNESBURG - South Africans voted Wednesday in elections that are expected to see the ruling African National Congress return to power despite a vigorous challenge from opposition parties seeking to capitalize on discontent with corruption and economic inequality.
Many people had lined up before polling stations opened at 7 am (0500 GMT) for the fifth all-race elections in South Africa since the end of white minority rule in 1994.
Some 22,000 voting stations were operating at schools, places of worship, tribal authority sites and hospitals, and several dozen vehicles serving as mobile voting stations were heading to remote areas to meet people. About 25 million South Africans, roughly half the population, have registered to vote in the parliamentary elections that will also determine the president.
The government urged South Africans, particularly young people with the opportunity to vote for the first time, to go to the polls early to avoid bottlenecks later in the day and said security measures were sufficient to ensure peaceful elections. Nearly 2,000 military personnel are assisting police in keeping order around the country.
Callers to South Africa's Radio 702 described a smooth process at some polling stations, and delays at others. Mosotho Moepya, chief electoral officer at South Africa's election commission, said there were a few isolated incidents of disruption and that officials were working to overcome them.
Eyewitness News, a South African media outlet, said three voting tents were set on fire during overnight protests in Bekkersdal, a township in South Africa's most populous province, Gauteng, where residents have complained about what they describe as inadequate government services. Dozens of police and military vehicles have deployed in Bekkersdal in recent days.
The African National Congress, which led the fight against apartheid, has dominated politics since Nelson Mandela was elected as South Africa's first black president in 1994. On the ruling party's watch, millions of people have gained access to water and other basic services, but protests routinely erupt in areas where residents say the government has ignored their needs.
There is also increasing concern about corruption. President Jacob Zuma has become enmeshed in a scandal surrounding more than $20 million in state spending on his private home, though he denies any wrongdoing and has promised to work against graft.
In the last election in 2009, the African National Congress fell just short of a two-thirds majority. Its main rivals this year are the Democratic Alliance, a centrist party led by former journalist and anti-apartheid activist Helen Zille, and the Economic Freedom Fighters, headed by Julius Malema, a former head of the ruling party's youth league who wants to redistribute wealth to the poor.