19 dead, 32 missing in Uganda boat accident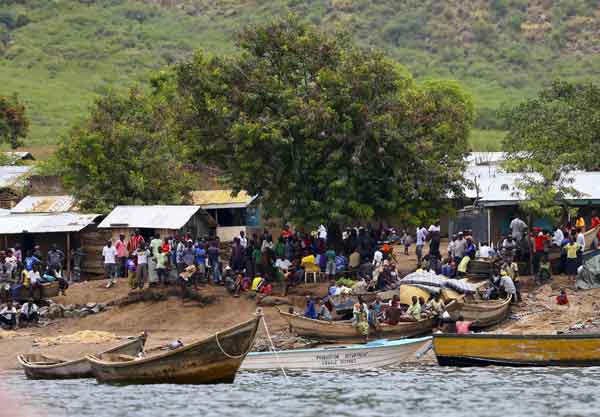 A general view shows the landing site where retrieved bodies are gathered after a boat carrying mostly Congolese refugees capsized at the shores of Lake Albert during rescue operations by the Uganda Marine Unit in Ntoroko southwest of Uganda's capital Kampala, March 23, 2014. [Photo/Agencies]
KAMPALA - A boat accident on Lake Albert in western Uganda on Saturday left 19 people dead and 32 others missing, a police spokesman said.
Patrick Onyango, deputy police spokesman told Xinhua by telephone that most of the passengers on the boat carrying over 96 people were Congolese refugees from Kyangwali Refugee Settlement.
"Nineteen bodies have been recovered and 45 people were rescued, Thirty two people are still missing," he said.
He said the cause of the accident was overloading, noting that the captain of the boat has been arrested. The ill fated boat was moving from Kyenjonjo to Hoima, according to Onyango.
State owned New Vision daily reported that the refugees were en route to Democratic Republic of Congo from Kyangwali and Bugoma in Hoima district when they encountered mechanical difficulty in Kitenile.
Onyango said the police marine unit and the fire brigade are still at the accident scene carrying out a search and rescue mission.
"The chances of those missing are very slim but we are doing everything to either rescue those missing or recover the dead bodies," he said.
Boat accidents on Ugandan lakes are common due to overloading.