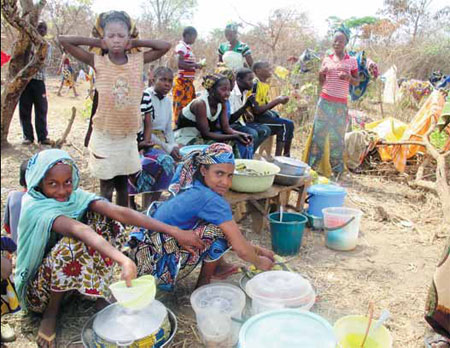 Many refugees from the Central African Republic have fled to the eastern Cameroonian village of Gado Badzere, near Garoua-Boulai, after a violent conflict broke out in their country last year. Reinnier Kaze / Agence France-Presse

When conflict broke out in the Central African Republic last year, the residents of Garoua-Boulai in neighboring Cameroon could hear the fighting.
Looters and bullets did not stop at the border, and the town, teeming with refugees streaming out of the war zone and supply trucks going in, lives in constant fear of spillover violence.
Like many fellow traders in Garoua-Boulai, Bachirou would often do business at the border crossing. But today he says that even getting close is "to risk taking a bullet".
All trade ended a year ago after the mainly Muslim rebels of the Seleka alliance seized power in the Central African capital Bangui.
"I used to sell various goods at the border," Bachirou said. "But when the Seleka took power, bullets would fly across when they were chasing the troops of (ousted president Francois) Bozize."
"We quit the area altogether and have been waiting for things to calm down," Bachirou said.
Outlying Cameroonian shops in the buffer zone have been ransacked by various protagonists in the Central African crisis, which has escalated into an ethno-religious conflict.
Muslim ex-rebels and Christian militias have been locked in a cycle of tit-for-tat attacks that a new internationally backed government and foreign troops have failed to stop.
The arrival of French troops in CAR in December has weakened Seleka forces and boosted an African Union military force known as MISCA.
Bachirou said that people in the border town had hoped that the situation would return to normal without the Seleka, but instead "anti-balaka" Christian militias arrived and "pillaged the shops of those who have remained behind".
"It gives me goose bumps even to think about approaching the border in light of the catastrophe unfolding on the other side," said Calvin, another resident of Garoua-Boulai.
Some people moved deeper into town for fear of being caught in crossfire when MISCA forces clashed with the militia.
Last month, anti-balaka forces attacked an African Union convoy at Cantonnier, the twin town on the Central African side of the border. Eleven of the assailants were killed and 12 civilians wounded, according to a MISCA toll.
MISCA troops and soldiers from France's Operation Sangaris stationed in Cantonnier have started to recover weapons from anti-balaka fighters.
"When the disarmament of these boys began, you could buy a Kalashnikov for 4,000 CFA francs ($8.40)," a Cameroonian soldier said.
"We even found assault rifles abandoned in plantations up by the border."
Garoua-Boulai was the first stop for many of the 130,000 Central African refugees in Cameroon. At least 11,000 are still there.
The town is also a hub for trucks delivering vital goods from Cameroon's port city of Douala, 805 km by road to the west, to the landlocked CAR.
"If food doesn't arrive in Bangui, we are absolutely certain to see a further crisis," French army spokesman Gilles Jaron warned last week. The rainy season is due in April, he added, making driving harder than ever.
Before this latest conflict, about 600 lorries plied the road each week, but traffic decreased sharply when armed groups attacked, together with highway bandits who have long been a problem.
French soldiers have managed to restore between 40 and 50 percent of that traffic, providing escorts for three convoys a week between Garoua-Boulai and Bangui, the French officer said.
"I'm relieved to have come home safe and sound," said young Cameroonian trucker Augustin Tsafack, after his first cross-border trip in a year.
"We were escorted right up to the frontier by Sangaris, but the journey is not a reassuring one. There's a lot of disorder."
Drivers around him looked weary and drained, but some of them were keen to move on deeper into Cameroon for safety.
MISCA soldiers were helping to get a new convoy ready for the return trip to Bangui, but some of the truckers remained hesitant.
"We're going to wait at least until the end of the month, because they say that the Seleka are getting ready to come back," Tsafack said.