11 trapped miners rescued from S. African mine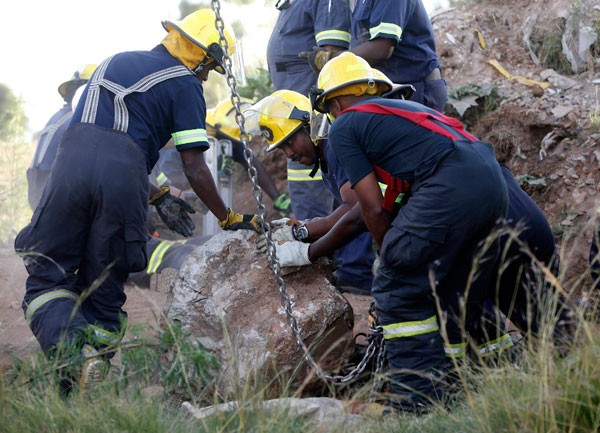 Rescue officials move a rock removed from an abandoned gold shaft as they work to rescue trapped suspected illegal miners in Benoni, east of Johannesburg, Feb 16, 2014. South African rescuers started bringing to the surface at least 30 illegal miners on Sunday who had been trapped by debris in the abandoned gold shaft near Johannesburg, emergency services ER24 spokesman Werner Vermaak said. There were no immediate reports of deaths or injuries. Vermaak later told Reuters that some of the miners still underground were refusing to come up, saying they did not want to be arrested. [Photo/Agencies]
JOHANNESBURG - Eleven of the more than 200 illegal miners trapped in an abandoned gold mine near Johannesburg have been brought to surface, rescuers said on Sunday.
The miners were trapped after allegedly being robbed of their gold by rival miners on Saturday afternoon at the Gold One shaft in Benoni east of Johannesburg.
The rescued miners were going through a medical assessment, said Werner Vermaak, spokesman of emergency agency ER24.
So far no injuries have been reported, according to Vermaak.
Disaster management and emergency officers were still at the scene as the rescue operation continued.
The miners were found on Sunday while emergency services were conducting operations around illegal mining in the area.
Vermaak said earlier that about 30 people were trapped towards the top of the old shaft and the rest down a steep tunnel.
He said rescue workers were able to speak to the miners trapped near the top. The miners reportedly told rescuers that no one was injured.
However, the conditions underground were unknown, Vermaak said.
Water was lowered down to the miners who are believed to be about five metres underground.
The incident highlighted the growing concern about illegal mining in the country. In March 2012, at least 20 illegal miners were buried alive after a rockfall hit a closed gold mine in the eastern South African province of Gauteng.
Early last month, 40 illegal miners were rescued after being trapped at a mine shaft, west of Johannesburg.