Attack on Chinese firm leaves 1 dead
One Chinese worker died and six were injured after gunmen attacked a Chinese company in the Zambian capital on Wednesday in a case that has renewed fears for workers' safety in Africa.
According to the Chinese embassy in Zambia, four gangsters with guns raided the private enterprise in suburban Lusaka on Wednesday morning. Seven Chinese workers were wounded in the ensuing fight and one died later that night. Two gunmen were killed and the rest fled. The company was from Central China's Henan province.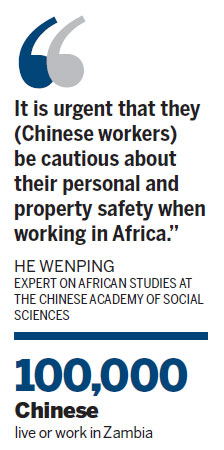 An official at the embassy, who gave only his surname, Xie, said the motive for the attack is unknown and police are investigating the case.
About 100,000 Chinese live or work in Zambia, with more than 500 Chinese companies involved in fields such as road building and mining.
As Chinese businesses expand in Africa, assaults on them have increased.
In 2012, a Chinese construction company in Lusaka was robbed. One worker was killed and a large amount of property was damaged.
In 2007, nine Chinese employees died after more than 200 militants attacked a Chinese oil company's project team in southeastern Ethiopia.
He Wenping, an expert on African studies at the Chinese Academy of Social Sciences, said the safety of Chinese workers in Africa has been confronted with challenges as more and more Chinese investment enters the African market.
"It is urgent that they be cautious about their personal and property safety when working in Africa," she said.
mojingxi@chinadaily.com.cn