Inter-religious violence kills 3 in CAR
BANGUI - Clashes between Muslims and Christians in Central African Republic's capital killed three on Wednesday as angry residents threw grenades and torched homes, witnesses said.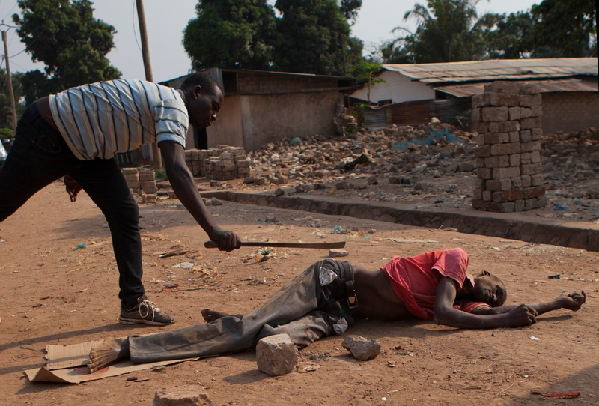 A member of an armed neighborhood defense squad, which residents say is not anti-balaka but local Christian men protecting themselves, strikes the body of a man said to be Muslim with the side of a machete heated in the fire, in Bangui, Central African Republic, Tuesday, Dec. 31, 2013. [Photo/icpress.cn]
French and African troops deployed in the country have struggled to stop the tit-for-tat violence between Muslim Seleka rebels, who seized power in March, and Christian self-defence militia, clashes that killed more than 1,000 people in December.
Residents of Bangui said that Seleka forces wearing civilian clothes threw grenades at Christian houses in a northern district of the city, setting them alight. Christian youths then launched reprisal attacks, burning nearby Muslim homes.
"The Muslims came and set fire to the houses... Everyone was affected," said Aristide Yenga, resident of the Ngou Simon neighbourhood in the north of the capital Bangui.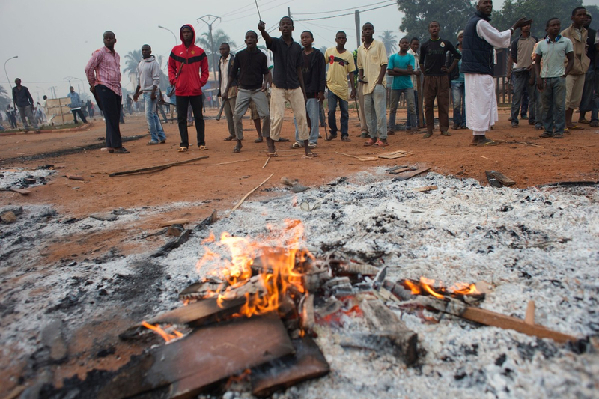 Muslim residents stand behind the remains of burning furniture, as they shout threats at gathered Christians across a traffic circle guarded by Burundian peacekeepers, in the 5th Arrondissement, in Bangui, Central African Republic, Tuesday, Dec. 31, 2013. [icpress.cn]
"This morning they began shooting and when we heard that we left for the larger (displaced persons') camps."
The body of a Seleka fighter with his left hand severed off and missing lay in the middle of a large avenue following the attacks, a Reuters witness said. A resident of the neighborhood who asked not to be named said that two other Muslims had been killed there overnight.
No peacekeepers were present, although a French helicopter flew overhead, the Reuters witness said.
The incidents occurred in the city's fifth district which houses both Muslims and Christians and near where heavy artillery battles took place the previous two nights.
A doctor at medical charity MSF at a makeshift camp at Bangui airport housing over 100,000 displaced people said on Wednesday it had received around 15 injured and two dead.
"Among the two dead was an adolescent of 12 years with a gash on his skull," said MSF's Gaetan Adouaka.
It was not clear if those killed were the Muslims from the northern district. The previous day a four-month-old baby died from a gunshot wound, the charity said in an earlier statement.
Aid workers say they are struggling to provide for the country's more than 800,000 displaced people, now living in crowded camps, because ongoing violence is disrupting supplies.
Central African Republic is one of Africa's poorest states despite abundant mineral resources. It is also one of the least stable and has seen five coups and several rebellions since independence from France in 1960.