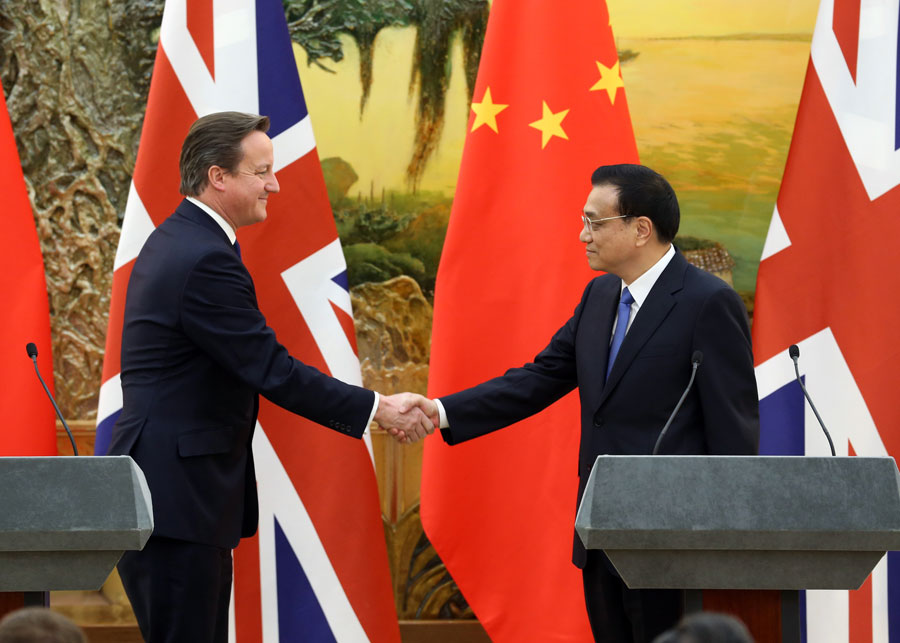 Chinese Premier Li Keqiang shakes hands with visiting British Prime Minister David Cameron during a press conference in Beijing, Dec 2, 2013. [Photo by Wu Zhiyi/Asianewsphoto]
BEIJING - Premier Li Keqiang held talks with British Prime Minister David Cameron in Beijing on Monday, the first meeting of the two heads of government since China's new leaders took office in March.
"I believe your visit will play an important role in promoting political mutual trust, pragmatic cooperation, cultural exchanges and push bilateral relations to a new stage," Li told Cameron before their talks.
Li was hopeful that Cameron's three-day trip would yield fruitful results.
Cameron said he was pleased to be back to China, at the start of the new leadership that will be taking the country forward and following the third plenum on ambition for change in China.
Cameron is leading a large delegation to China, including six cabinet ministers and 150 representatives from business and trade. "The scale of the delegation mirrors the scale of the ambition that we have for Britain-China partnership."
He hoped Li would visit Britain in the near future.
This is Cameron's second China tour since he took office in May 2010,following an official visit in November 2010.