S Africa investigates sign interpreter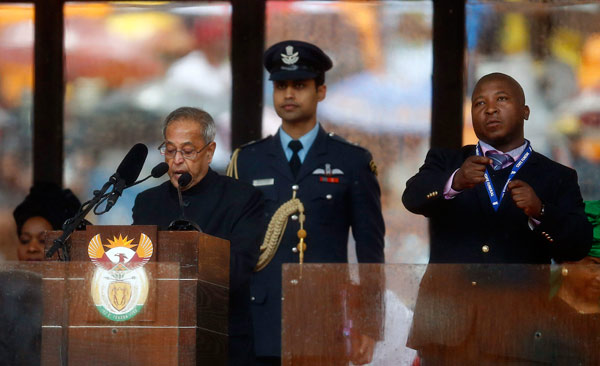 India's President Pranab Mukherjee speaks at the podium as a sign language interpreter (R) punches the air beside him during a memorial service for late South African President Nelson Mandela at the FNB soccer stadium in Johannesburg December 10, 2013. [Photo/Agencies]
JOHANNESBURG — The South African government says it is aware of reports that the bogus sign language interpreter at Nelson Mandela's memorial once faced a murder charge, and says he's being investigated.
Phumla Williams of the government communications office said Friday the government is investigating Thamsanqa Jantjie and how he was selected to interpret at a memorial Tuesday at which he stood close to US President Barack Obama and other leaders.
Jantjie outraged deaf people by making signs they said amounted to gibberish. A South African TV news outlet, eNCA, is reporting that Jantjie faced a murder charge a decade ago, but it is unclear if the case was concluded. He also reportedly faced other criminal charges.
Asked by an Associated Press reporter about a murder charge, Jantjie turned and walked away without commenting.
A top United States official said "we're all very upset" about the bogus sign language interpreter who appeared just three feet from Obama at the memorial ceremony for Mandela, the anti-apartheid icon who died in his Johannesburg home on Dec. 5.
U.S. Assistant Secretary of State for African Affairs Linda Thomas-Greenfield told reporters in Kenya on Friday that U.S. officials are concerned about security and how the interpreter could have gotten so close to a number of world leaders, including Obama.Jantjie told AP on Thursday he has been violent in the past and hallucinated during the memorial service as he was gesturing incoherently.
Thomas-Greenfield also said officials are dismayed because the people who need sign language weren't able to understand what was said at the ceremony. She called the problem "extraordinarily sad."
In Washington, Secret Service spokesman Ed Donovan said Thursday that vetting for criminal history and other appropriate background checks of the people onstage were the responsibility of the South Africans. He added that Secret Service agents are "always in close proximity to the president."