UN chief welcomes summit of Sudan, S Sudan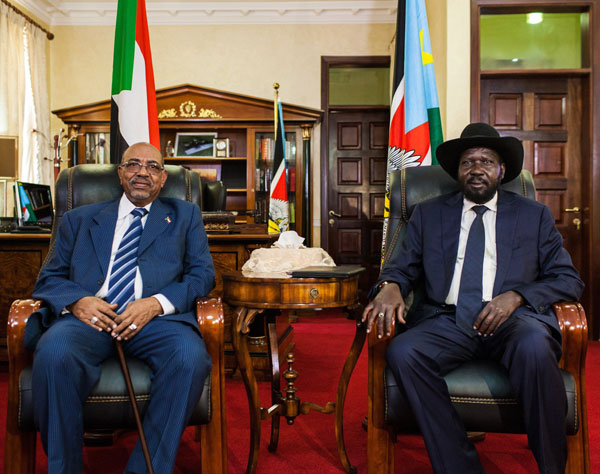 Sudan's President Omar al-Bashir (L) poses for a photograph with his host, South Sudan's President Salva Kiir, at the latter's office in Juba October 22, 2013. Sudanese President Bashir made a rare visit to South Sudan on Tuesday to meet his counterpart Kiir, on a trip that is expected to focus on their disputed border region. [Photo/Agencies]
UNITED NATIONS - UN Secretary-General Ban Ki-moon on Tuesday welcomed holding of a summit between Sudanese President Omar al-Bashir and President Salva Kiir of South Sudan in the day. 
The UN chief also welcomed the decision of the two leaders to accelerate the full establishment of the Safe Demilitarized Border Zone (SDBZ) by mid-November, said a statement issued by his spokesperson.  
Ban took note of the two Presidents' intent to expedite the establishment of the Abyei Administration, Abyei Council and Abyei Police Service, said the statement.
"The Secretary-General calls on both countries to urgently resume their consultations on the implementation of the 2012 African Union High-Level Implementation Panel (AUHIP) proposal to determine the final status of Abyei, and calls on Abyei community leaders to refrain from any unilateral initiatives which could increase tensions in the Abyei area," said the statement.
Earlier news reports said President Al-Bashir traveled to Juba, the national capital of South Sudan, Tuesday to attend a summit with President Kiir, discussing solutions to outstanding issues between the two countries.
According to a joint communique issued at the conclusion of the joint talks, the two sides agreed to expedite the determination of the zero line to establish a safe demilitarized zone in the border area before mid-November, and will work together to prevent supporting and hosting of armed movements.
The disputed oil-rich area of Abyei has been witnessing growing tension since May when the Nadhir (Chieftain) of Dinka Ngok tribe, Kual Deng Majok, and two of his companions were killed in clashes between members of the Miseriya tribe and peacekeepers from the UN Interim Security Force in Abyei.