Rioting erupts in Moscow
MOSCOW - Rioters smashed shop windows, stormed a warehouse and clashed with police in a Moscow neighbourhood on Sunday in the biggest outbreak of anti-migrant unrest in the Russian capital in three years.
Demonstrators, some chanting racist slogans, vandalised shops and other sites known for employing migrant workers in the southern Biryulyovo area after the killing of a young ethnic Russian widely blamed on a man from the Caucasus.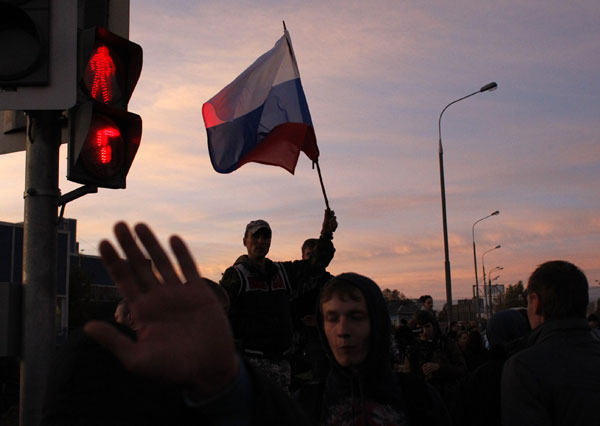 A man waves a Russian flag after a protest in the Biryulyovo district of Moscow October 13, 2013. [Photo/Agencies]
Several hundred residents had protested peacefully, demanding justice over the killing, until a group of young men began smashing windows in a shopping centre and briefly set it on fire. A video posted on Youtube showed them chanting "White Power!" as they forced their way in.
When police in riot gear tried to make arrests, protesters threw glass bottles at them and the police fought back with batons. Video footage from the scene showed overturned cars and smashed fruit stalls.
Some in the crowd, which grew to number several thousand, set off from the shopping centre and stormed into a vegetable warehouse employing migrants from the Caucasus and Central Asia.
Moscow police said several officers were wounded in the riots, around 380 people were detained and a criminal case was opened.
Extra police were sent in but sporadic clashes and arrests continued into the night.
Many Muscovites chafe at an influx of migrant labourers to the capital over the past decade.
The Kremlin has watched with alarm at frequent outbreaks of violence in Russian cities between members of the Slavic majority and people with roots in the mostly Muslim North Caucasus, ex-Soviet South Caucasus states and Central Asia.
PERSISTENT TENSION
Some Biryulyovo residents criticised the police for the latest arrests, drawing a contrast with what they said was too much leniency in the treatment of migrants engaged in illegal activity.
"It's simply impossible to live here. There are fights all the time. The people working in this warehouse are no good - I'm sure there are criminals hiding among them," said local resident Alexander, 23.
The head of President Vladimir Putin's human rights council criticised law enforcement bodies for not doing enough to prevent the attacks on businesses employing migrants.
"On the one hand, I completely understand resentment among Muscovites who see people getting killed on our streets and law enforcement officials doing nothing," Mikhail Fedotov told the broadcaster Dozhd. "But that in no way justifies ... this pogrom."
The latest protest in Biryulyovo began with demands for more police action over the killing of Yegor Shcherbakov, 25, who authorities said was fatally stabbed while walking home with his girlfriend on Thursday night.
Russia's top investigative agency said it was looking into the killing. Mayor Sergei Sobyanin, a close Putin ally, called for a thorough investigation and said those behind riots must also be held responsible for their actions.
The rioting in Biryulyovo was the worth outbreak of unrest over a racially charged incident in Moscow since December 2010, when several thousand youths rioted just outside the Kremlin.
The youths clashed with police and attacked passersby who they took for non-Russians after the killing of an ethnic Russian soccer fan was blamed on a man from the North Caucasus.
Putin has frequently warned of the dangers of ethnic and religious violence in the diverse nation.
This month he said Russia needed migrant labourers in industries such as construction. But in a nod to anti-migrant sentiment, he suggested their numbers could be restricted in some other sectors including trade.