Mayor to visit China, promote London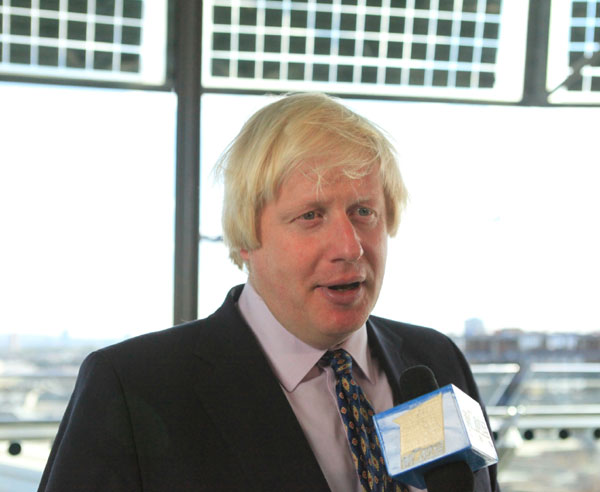 London's mayor Boris Johnson speaks at a press conference announcing his upcoming China visit. [Photo by Cecily Liu]
Focusing on complementarities, as opposed to different opinions, is the way to take Britain and China's relationship forward, London's mayor, Boris Johnson, said on Tuesday at a press conference announcing his upcoming China visit.
The mayor's visit comes at a time when the cold diplomatic relationship between China and the UK, which was affected by the Dalai Lama issue, is drawing to a close.
Johnson is unwilling to comment on the political situation, explaining that he "hasn't really been engaged at that level of discussion" as the London mayor.
He said the diplomatic freeze has not been a problem for his team, as London continues to attract numerous Chinese investments. "We've had a lot of engagement with Chinese companies, with the Chinese government, so it's not something that really affected us".
But going forward, to "stop the confusion from happening again", Johnson offered the advice that governments of both countries should focus on similarities rather than differences.
"I think just to recognize there will be differences on some things and get on with those areas where we have so much in common. And that's certainly what I will be doing. Because there are huge, huge, areas of economic complementarities," he said.
Johnson said his last visit to China was during the 2008 Beijing Olympics when he attended the Olympic flag handover from Beijing to London. His relaxed attitude of accepting the Olympic flag with one hand at this event ensured he became well known amongst the Chinese audience.
Johnson said China and London's relationship has changed a great deal since 2008. He said a key purpose of his trip is to strengthen this relationship, especially in education, tourism and investment.
Johnson will visit Beijing, Shanghai and Hong Kong from Oct 13 - 18. He is expected to meet senior figures from Chinese business, including figures from China Investment Corp.
According to UK government statistics, the number of Chinese students in London last year reached 14,000, the largest international student population in the UK. Last year London also attracted 104,000 Chinese visitors, an increase of 28 percent from 2011 and 121 percent in 2009.
Notable recent Chinese investments in London include real estate developer ABP's 1 billion pound ($1.51 billion) plans to develop London's Royal Albert Dock into a business center, and developer Zhongrong Holdings' proposal to invest 500 million pounds to regenerate Crystal Palace Park.
"We are looking at developing an incredible stream of relationships between us and Chinese investors, and obviously to do what we can to help open doors to British businesses that are coming with us on the trip as well," he said.
Johnson's visit will coincide with the China visit of British Chancellor of the Exchequer George Osborne, who will be attending the UK-China Economic and Financial Dialogue in Beijing.
Johnson and Osborne will also meet students at Peking University for a questions and answers session on Monday.
The fact that Johnson will be visiting Beijing before Cameron makes his visit after the diplomatic freeze ends led to some speculation that Johnson is using the "China card" to bolster his chances of competing for the prime minister's position at, or after, the next election.
But Johnson was quick to adamantly refute any such suggestion.
"No, no, no. My position is very simple. I have a very easy job, which is to promote relations between London and China. I don't believe it is right for us to get involved in that kind of thing. Certainly it's good that we're given a wonderful invitation from our friends in China," he said.