Norway cuts Afghan aid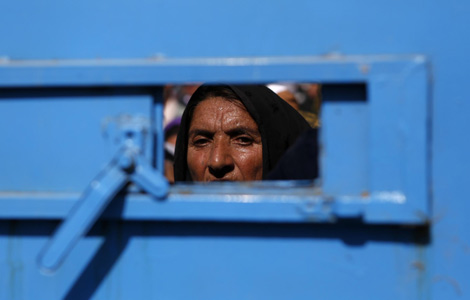 An Afghan woman waits to receive aid as she stands behind the door of the Afghanistan Chamber of Commerce and Industries (ACCI) during the month of Ramadan in Kabul August 1, 2013. [Photo/Agencies] 
OSLO  - Norway will slightly reduce its aid to Afghanistan from next year, signalling to Kabul that it has not done enough to combat corruption and violence against women, the foreign ministry said on Friday.
"We are deeply concerned about the widespread violence against women in Afghanistan," Foreign Ministry State Secretary Torgeir Larsen said in a statement.
He said the Afghan authorities had failed to submit a report on the problem that they had promised by July.
"Corruption is a vast problem, with the Kabulbank scandal as one example," Larsen said.
"Not enough has been done to prosecute all those involved, and not enough has been done to recover money that has been embezzled. This indicates that corruption is not being taken seriously enough by the Afghan authorities."
An Afghan court sentenced more than a dozen men to jail in March, including Kabulbank's founder and chief executive, after $935 million was stolen from what was then Afghanistan's biggest bank, causing a financial crisis, civil disorder and a run on deposits.
Norway had pledged 750 million crowns ($126 million) a year to Afghanistan through 2017 but will reduce that to 700 million crowns next year because of what it said was Kabul's failure to meet its commitments.
Norway is one of the world's biggest foreign aid donors and plans to spend around $5 billion on assistance in dozens of developing countries this year.