Singh, Sharif to meet for ties
Indian, Pakistani leaders unlikely to resolve thorny issue of Kashmir
Indian Prime Minister Manmohan Singh confirmed on Wednesday he will meet his Pakistani counterpart this weekend on the sidelines of the UN General Assembly in New York, in a move toward achieving better relations after a period of heightened tension.
The meeting will send a positive signal that the two countries, which have had long-term territorial disputes over Kashmir, have the willingness to improve their ties, analysts said. But there may not be major progress in resolving the Kashmir issue, they added.
Singh said he will hold talks with Pakistani Prime Minister Nawaz Sharif, the first such meeting in three years and the first since Sharif took office in June.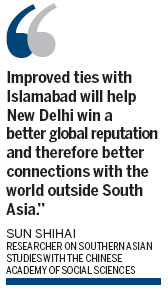 "During my visit to New York, I look forward to bilateral meetings with the leaders of some of our neighboring countries, including Bangladesh, Nepal and Pakistan," Singh said in a statement, before leaving for the United States.
The meeting will set the tone for the future relationship between the two neighboring countries, said Ma Jun, a researcher on Indian studies with the Military Science Academy of the Chinese People's Liberation Army.
"The two leaders may talk about the general topics concerning their ties, but it is not the right occasion for solving the Kashmir issue", Ma said.
Pakistan hopes to improve ties with India so that it can concentrate on resolving its domestic issues, including economic development and anti-terrorism efforts, he added.
Sun Shihai, a researcher on Southern Asian studies with the Chinese Academy of Social Sciences, said India also expects to have a better relationship with Pakistan.
"Improved ties with Islamabad will help New Delhi win a better global reputation and therefore better connections with the world outside South Asia," Sun said.
"China is looking forward to seeing an improved relationship between the two countries. India and Pakistan are both China's neighbors, and favorable ties between them are in line with China's interests," he added.
The meeting will help push negotiations on resolving their territorial issue a step forward, Sun said.
New Delhi and Islamabad have been working behind the scenes in recent weeks to secure a meeting, which was in jeopardy after deadly skirmishes in recent weeks between their militaries.
The attacks repeatedly broke a cease-fire in place since 2003 along the de facto border in Kashmir.
The picturesque Himalayan region is divided between India and Pakistan by the UN-monitored Line of Control, but Kashmir is claimed in full by both countries. Two of their three wars have been fought over Kashmir.
The deadly flare-ups followed an ambush in August that killed five Indian soldiers along the Line of Control. India blamed the Pakistani army for the attack, a charge that Islamabad denied.
Since winning a general election in May, Sharif has been vocal in his desire for better relations with India. Last month he urged both sides to work swiftly to shore up the 10-year cease-fire after India's defense minister hinted at stronger military action along the Line of Control.
AFP-China Daily
Zhou Wa in Beijing contributed to this story.