Chinese student awarded for life saving in Japan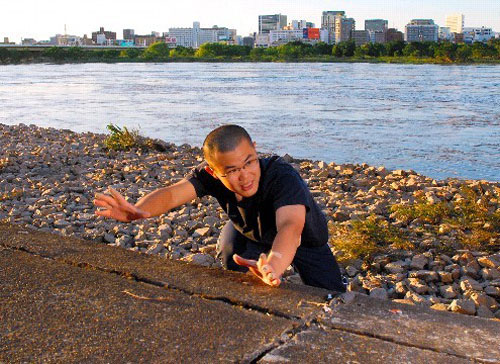 Chinese student Yan Jun demonstrates the rescue on the embankment of Yodo River in Osaka, Japan, Sept 2013. [Photo/People's Daily]
OSAKA - A Chinese exchange student received an official commendation on Wednesday for saving a nine-year old boy who fell into the Yodo River in Osaka city of the western Japanese prefecture of Osaka, local press reported.
The 26-year-old Chinese man, Yan Jun, who is due to enter a PhD program at a university in Osaka next year, received a certificate of commendation from the Chief of the Osaka Prefectural Police for rescuing the boy out of the swollen river on Monday.
According to the daily Mainichi Shimbun report, Yan found the elementary schoolboy when he was taking a jog along the river in the late afternoon, where the water level had increased due to overnight rains brought by the recent typhoon.
The report said he jumped into the water and pulled out the drowning boy after several attempts to grab his hand, adding that he eventually succeeded in the rescue about 100 meters downriver, returning once to the embankment to use a rope provided by local residents.
The report quoted Yan as saying "nationality" had nothing to do with saving a life and that he hoped a happy result of his heroic action will be that it becomes a model to accelerate the formation of a better friendship between China and Japan.
"I was prepared to die when I rescued the boy in the river," Yan said.
Chief of Police Norimasa Tanaka spoke of Yan's courageous behavior in disregarding his own safety and the danger involved, saying that his actions had impressed all who have heard of them. Thus the police decided to award the commendation.