Possible breakthrough in Syria crisis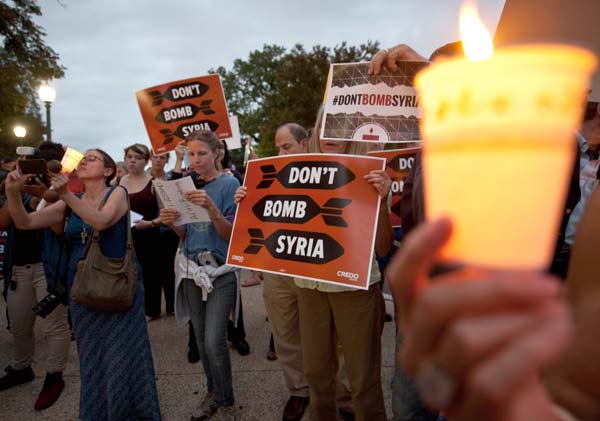 People protest against a US military intervention in Syria in Washington on Monday. US Senate Majority Leader Harry Reid said he was delaying a key vote on authorizing the use of force in Syria to let US President Barack Obama publicly address the issue. Nicholas Kamm / Agence France-Presse
Damascus agrees to proposal from Moscow to give up chemical weapons
US President Barack Obama said a Russian plan to avert US strike threats on Syria by securing a deal to destroy the government's chemical weapons could be a "significant breakthrough".
Obama warned on Monday he had not taken military strikes off the table, but, in agreeing to consider the Russian initiative, he effectively pushed back the timetable for possible action.
Syrian Foreign Minister Walid al-Muallem on Tuesday said Damascus has "already agreed" to the initiative by Russia for Damascus to hand over its chemical weapons stocks to international control.
"Yesterday, we had a round of very fruitful negotiations with (Russian Foreign Minister) Sergei Lavrov, and he came forward with an initiative on chemical weapons," Muallem said.
"And already (yesterday) in the evening we agreed with the Russian initiative."
In a series of television interviews, he insisted it had only come about because Syrian President Bashar al-Assad and Moscow could see the United States was serious about using force.
"I think what we're seeing is that a credible threat of a military strike from the US, supported potentially by a number of other countries around the world, has given them pause and makes them consider whether or not they would make this move," he told US television network NBC.
"And if they do, then this could potentially be a significant breakthrough. But we have to be skeptical because this is not how we've seen them operate over the last couple of years."
In separate interviews with several US broadcasters, Obama said he had discussed the issue with Russian President Vladimir Putin at last week's G20 summit in St. Petersburg.
Washington's European allies gave a similarly cautious welcome to the plan, and UN Secretary-General Ban Ki-moon issued his own plea for a mission to secure and dispose of the weapons.
During a meeting with his Syrian counterpart in Moscow, Russian Foreign Minister Sergei Lavrov urged Damascus to "place chemical weapons under international control and then to have them destroyed".
Iran "favorably welcomes" the Russian plan, the Foreign Ministry spokeswoman Marzieh Afgham said on Tuesday. The proposal should include the destruction of chemical weapons in the hands of rebel groups fighting to topple Assad's government.