Fast-food protests under way in US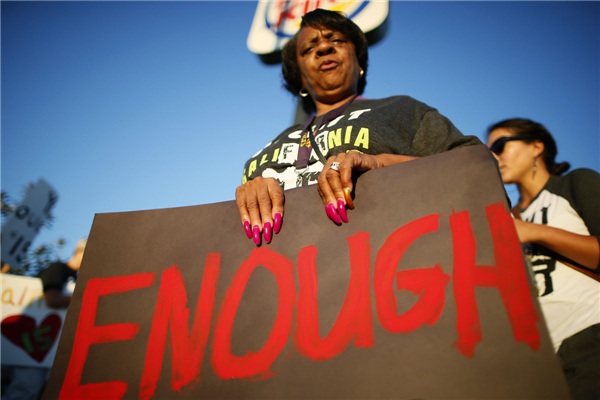 Workers and their supporters protest outside Burger King as part of a nationwide strike by fast-food workers to call for wages of $15 an hour, in Los Angeles, California August 29, 2013. [Photo/Agencies]
NEW YORK - Fast-food protests were under way Thursday in US cities including New York, Chicago and Detroit, with organizers expecting the biggest national walkouts yet in a demand for higher wages.
The push has brought considerable attention to the so-called "McJobs" that are known for their low pay and limited prospects.
Fast-food workers say they can't live on what they're paid. Workers say they want $15 an hour, which would be about $31,000 a year for full-time employees. That's more than double the federal minimum wage, which many fast food workers make, of $7.25 an hour, or $15,000 a year.
The move comes amid calls from the White House, some members of Congress and economists to raise the minimum wage, which was last raised in 2009. But most proposals seek a far more modest increase than the one workers want. President Barack Obama wants to raise the minimum wage to $9 an hour.
The restaurant industry says raising wages would hurt job creation and make food cost more.
Organizers said the strikes would hit more than 50 cities, though restaurants were expected to remain open. The Service Employees International Union, which represents more than 2 million works in health care, janitorial and other industries, has been providing financial support and training for local organizers around the country.
Mary Kay Henry, president of the SEIU, said the protests in recent months show that fast-food workers can be mobilized, despite the industry's relatively higher turnover rates and younger age.
"The reality has totally blown through the obstacles," she said.
US Labor Secretary Thomas Perez said the strikes show the need to raise the minimum wage.
Perez said that for too many people in minimum-wage jobs, "the rungs on the ladder of opportunity are feeling further and further apart."
In New York City on Thursday, about 300 to 400 protesters flooded inside a McDonald's near the Empire State Building. Shortly after the demonstration, however, the restaurant seemed to be operating normally.
Customer Ryan Carter, holding a cup of McDonald's coffee he bought for $1 said he "absolutely" supported workers' demands for higher wages.
"They work harder than the billionaires in this city," he said.
Shaniqua Davis, 20, planned to take part in the strikes. She lives in New York City with her boyfriend, who is unemployed, and their 1-year-old daughter. Davis works at a McDonald's, earning $7.25 an hour. Her schedule varies, but she never gets close to 40 hours a week. "Forty? Never. They refuse to let you get to that (many) hours."
Her weekly paycheck is $150 or much lower.
The National Restaurant Association in the US says the low wages reflect the fact that most fast-food workers tend to be younger and have little work experience. Scott DeFife, a spokesman for the group, says that doubling wages would hurt job creation, noting that fast-food chains are already facing higher costs for ingredients, as well as new regulations that will require them to pay more in health care costs.
McDonald's Corp. and Burger King Worldwide Inc. say they don't make decisions about pay for the independent franchisees that operate the majority of their US restaurants.
For the restaurants it does own, McDonald's said in a statement that pay starts at minimum wage but the range goes higher, depending on the employee's position and experience level. It said that raising entry-level wages would mean higher overall costs, which could result in higher prices on menus.
"That would potentially have a negative impact on employment and business growth in our restaurants, as well as value for our customers," the company said in a statement.
Wendy's said in statement to CNBC that it was "proud to provide a place where thousands of people, who come to us asking for a job, can enter the workface at a starting wage, gain skills and advance with us or move on to something else."
Yum Brands Inc., which owns KFC, Pizza Hut and Taco Bell, did not respond to a request for comment.