Chang calls for closer ties with ASEAN members
Editor's note: China Daily talks to three out of 10 foreign ministers from the Association of Southeast Asian Nations on the occasion of a special meeting in Beijing to mark the 10th anniversary of the China-ASEAN Strategic Partnership.
China's defense minister called for closer China-ASEAN security cooperation on Thursday, saying maritime disputes between China and some Association of Southeast Asian Nations member states "should not, and will not undermine" the overall relationship.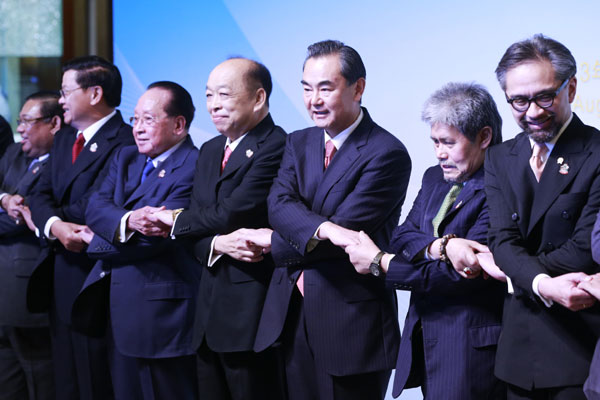 Chinese Foreign Minister Wang Yi (third from right) poses with his ASEAN counterparts and ASEAN's secretary-general during the China-ASEAN foreign ministers' special meeting in Beijing on Thursday. The meeting marked the 10th anniversary of the formation of the China-ASEAN strategic partnership. Feng Yongbin / China Daily
"These disputes are by no means the mainstream of the regional security situation. They are not issues between China and ASEAN. ASEAN is not the concerned party," Defense Minister Chang Wanquan said.
Chang made the remarks on Thursday during the ASEAN Defense Ministers' Meeting-Plus convened on Wednesday and Thursday in Brunei. Eighteen regional countries participated in the meeting, some of which have maritime disputes with China over parts of the South China Sea.
"China always advocates that these disputes should be properly handled by the countries directly concerned. We oppose any actions and statements trying to confuse right and wrong in terms of historical facts. And we oppose any attempts to internationalize, escalate or complicate the disputes," Wang said.
"We are ready to work together with the ASEAN countries to make active efforts to jointly maintain regional peace and stability," he said at a news conference.
Chang also hailed China-ASEAN achievements in defense and security, urging Asia-Pacific countries to strengthen their sense of being "a community of destiny", and jointly guarantee security through dialogue while enhancing mutual trust.
A joint declaration issued on Thursday also spoke highly of the concerned parties' cooperation in disaster relief, maritime rescue, military medicine, counterterrorism and peacekeeping over the past three years since the first such meeting was held in Vietnam in 2010.
China previously said it is willing to engage in future consultations on a South China Sea "code of conduct", a binding set of rules urged by countries led by the Philippines.
However, tensions escalated again after Manila kept pressuring Beijing with moves such as planning to relocate one of its naval bases closer to the South China Sea and to invite more US forces to the base.
Meanwhile, US Defense Secretary Chuck Hagel called for restraint on Wednesday during the gathering in Brunei.
The Pentagon chief underscored the US focus on the Asia-Pacific region, but warned his fellow defense ministers that a growing number of maritime incidents and tensions in Asian waters increases the risk of a dangerous international confrontation.
Hagel is on the third leg of a weeklong trip in Southeast Asia, which includes Malaysia, Indonesia and the Philippines before he returns to Washington on Friday.
On Tuesday, he announced the sale of eight Apache helicopters to Indonesia during a visit to Jakarta, the latest of the Pentagon's offering of ships, radar and other military assistance to countries in Southeast Asia, which is widely seen as a counterbalance to China.
But during a recent interview with BBC, Hagel insisted such sales were not "about encircling China or anybody else", but "about prosperity, stability and security".
AFP contributed to this story.
zhaoshengnan@chinadaily.com.cn