US preparing for probable strike on Syria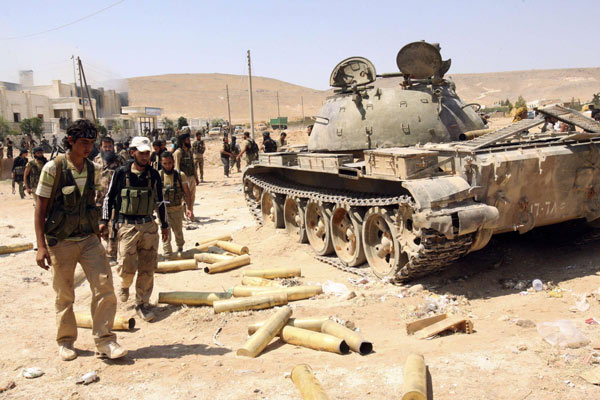 Free Syrian Army fighters inspect munitions and a tank that belonged to forces loyal to Syria's President Bashar al-Assad after they seized Aleppo's town of Khanasir August 26, 2013. [Photo/Agencies]
AMMAN/BEIRUT - The United States and its allies were gearing up on Tuesday for a probable military strike against Syria that could happen within days as punishment for last week's chemical weapons attacks blamed on President Bashar al-Assad's government.
Western powers have told the Syrian opposition to expect military action against Assad's forces soon, according to sources who attended a meeting between envoys and the Syrian National Coalition in Istanbul.
Amid a quickening drumbeat of preparations, US Defence Secretary Chuck Hagel said American forces in the region were "ready to go" if President Barack Obama gives the order, as intelligence agencies assembled what is sure to be final confirmation of the Syrian government's culpability for Wednesday's poison gas attack near Damascus.
White House spokesman Jay Carney said it would "fanciful" to think that anyone other than Syrian President Bashar al-Assad's forces was responsible for the chemical attack, which killed hundreds of people as they slept.
Obama has yet to make a final decision on the US response, Carney said, but left little doubt that it would involve military action. He insisted, however, that Washington was not intent on "regime change," signalling that any military strikes would be limited and not meant to topple Assad.
The British military was also drafting plans. Prime Minister David Cameron, anxious, like Obama, not to emulate the entanglements in wars in Afghanistan and Iraqi that beset their predecessors, said any strikes would be "specific" so as not to drag the allies deeper into the Syrian civil war now in its third year.
Cameron recalled parliament for a debate on Syria on Thursday.
UN chemical weapons investigators put off until Wednesday a second trip to the rebel-held suburbs of Damascus, where activists say hundreds of civilians died a week ago.
While evidence of chemical warfare could bolster an argument for intervention at the United Nations in the face of likely Russian and Chinese opposition, Western leaders and the Arab League have already declared Assad guilty.
Ahmad Jarba, president of the rebel Syrian National Coalition, met envoys from 11 countries at an Istanbul hotel, including the US ambassador to Syria, Robert Ford. The rebel leaders proposed targets for cruise missiles and bombing.
One participant said: "The opposition was told in clear terms that action to deter further use of chemical weapons by the Assad regime could come as early as in the next few days."
Planning appears to focus on missile or air strikes. There is little public support in Western countries for troops to invade Syria.
"We have moved assets in place to be able to fulfil and comply with whatever option the president wishes to take," Hagel said.
The precise timing of possible military action remained unclear, but it is certain to wait for an official US intelligence report blaming Assad's government for the chemical attack. The findings, considered merely a formality at this point, will be released this week, US officials said.
Under growing pressure for US action on Syria Obama is expected to keep close watch on the situation there, but he will go ahead with a speech on Wednesday at Washington's Lincoln Memorial marking the 50th anniversary of slain civil rights leader Martin Luther King Jr.'s "I have a dream speech."