Japan may raise nuclear leak to 'serious'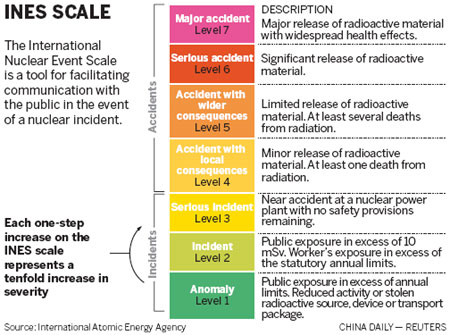 But TEPCO reversed that view late Wednesday and acknowledged a possible leak to the sea after detecting high radioactivity inside a gutter extending to the ocean.
The company also said the tank may have been leaking slowly for weeks through a possible flaw in its bottom. That could create extensive soil contamination and a blow to plans to release untainted underground water into the sea as part of efforts to reduce the amount of radioactive water.
The leaks have shaken confidence in the reliability of hundreds of tanks that are crucial for storing water that has been pumped into the broken reactors to keep melted radioactive fuel cool.
The plant suffered multiple meltdowns following a massive earthquake and tsunami in March 2011 - a level 7 "major accident" and the worst since Chernobyl in 1986.
About 350 of some 1,000 steel tanks built across the plant complex containing nearly 300,000 tons (300 million liters, 80 million gallons) of partially treated contaminated water are less-durable ones with rubber seams.
TEPCO says the tanks that have leaked use rubber seams that were intended to last about five years. TEPCO spokesman Masayuki Ono said it plans to build additional tanks with welded seams that are more watertight, but will still have to rely on ones with rubber seams.
Figuring out what to do with the radioactive water is among the most pressing issues affecting the cleanup process, which is expected to take decades.
"The growing contaminated water has been one of our biggest concerns since the March 11 accident," said Zengo Aizawa, TEPCO's executive vice president. "The contaminated water remains a problem that could lead to a crisis."
The leaked water's radiation level, measured about 50 centimeters (2 feet) above the puddle, was about 100 millisieverts per hour - the maximum cumulative exposure allowed for plant workers over five years, Ono said.
Contaminated water that TEPCO has been unable to contain continues to enter the Pacific Ocean at a rate of hundreds of tons per day. Much of that is ground water that has mixed with untreated radioactive water at the plant.