26 Palestinian prisoners arrive in West Bank, Gaza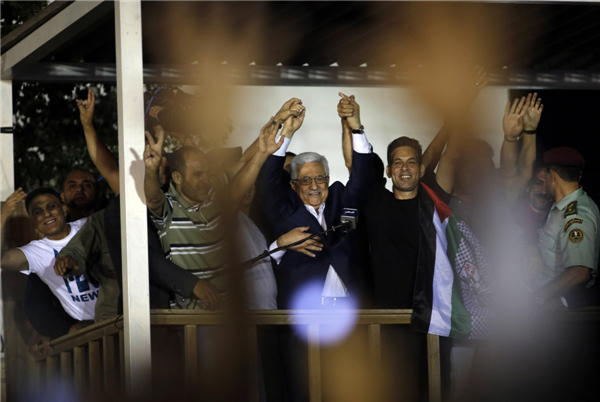 Palestinian President Mahmoud Abbas welcomes Palestinian prisoners released from Israeli prisons in the West Bank city of Ramallah early August 14, 2013. Israel freed 26 Palestinian prisoners on Wednesday to keep US-sponsored peacemaking on course for a second round of talks. [Photo/Agencies]
RAMALLAH - Twenty-six Palestinian prisoners released by Israel arrived in the West Bank City of Ramallah and the Gaza Strip early Wednesday, witnesses said.
The 26 were freed as a goodwill gesture by Israel to encourage US-brokered peace talks with the Palestinians.
Eleven of the freed from the West Bank were taken by bus to Bitunia checkpoint near Ramallah and the other 15 from Gaza were shuttled to Erez crossing point between Israel and Gaza.
Hundreds of family members of the prisoners gathered near the two destinations to receive the prisoners, holding their posters and Palestinian flags.