Guests saved as US building falls into sinkhole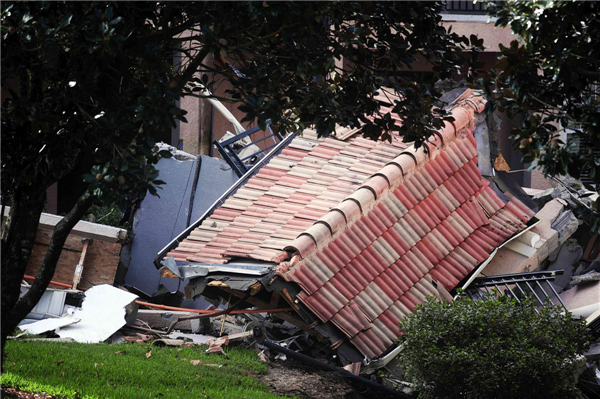 A section of the Summer Bay Resort lies collapsed after a large sinkhole opened on the property's grounds in Clermont, Florida August 12, 2013. [Photo/Agencies]
CLERMONT, Fla. - Dozens of guests at a Florida resort near Walt Disney World were safely evacuated in the middle of the night on Monday when a large sinkhole opened on the property, swallowing a three-story building.
"I was hearing popping noises and I was hearing people screaming and glass breaking. The building actually twisted and separated," Summer Bay Resort security guard Richard Shanley said. "It was like something from a movie."
Shanley was driving a golf cart on the Orlando-area resort's main boulevard when a family hailed him to say they heard popping sounds and that something was wrong.
A spokesman for the Lake County Fire Department said there were no injuries in the collapse and that resort staff responded quickly to the first signs of danger.
Paul Caldwell, general manager of the 64-acre, lakeside resort, said the building collapsed almost entirely within 45 minutes, leaving only the top floor visible ground level. He estimated the sinkhole to be 100 feet (30m) wide.
Shanley, whom Caldwell called "a hero", said he saw balconies breaking. He rushed into the building and began banging on doors, using his master key to open some doors and wake people so they could get out.
He said that while he was on the second floor, he felt the building sink about 20 inches and saw the ceilings collapsing. By the time Shanley was on the third floor, he said that floor's ceiling had entirely collapsed.
Shanley kept going through the building until the fire department arrived and made him leave.
Asked if he felt his life was ever at risk, Shanley said, "Yes ma'am, but I didn't think of that at the time. I was more concerned about my guests and trying to get them out of here."
Thirty-six people were evacuated, including 20 from the collapsed building and 16 from another building emptied as a precaution, according to the resort's executive vice president, Juan Barrillas.
Caldwell praised Shanley for not waiting for authorization before evacuating guests. "Had he not acted on his own, we are confident there could have been many people trapped in that building."