Mali's presidential runoff ends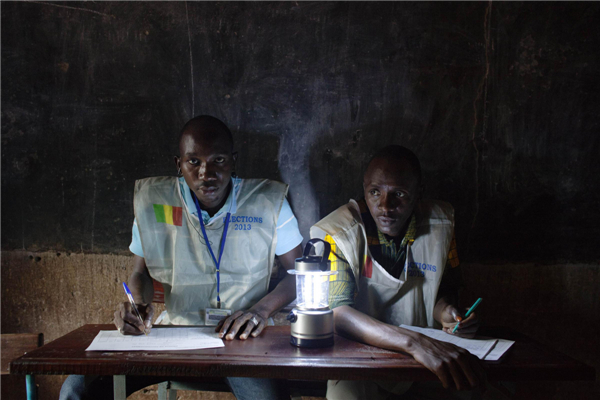 Poll workers count ballots in Bamako, Mali, August 11, 2013. Poll workers in Mali began counting votes in Sunday's high stakes presidential runoff. [Photo/Agencies]
BAMAKO - The second round vote of Mali's presidential election ended at 18:00 local time on Sunday with positive evaluation in general though technical faults are noted by observers and small incidents are reported in Bamako, the capital city of Mali.
After small affluence at the beginning hours due to heavy rain in the morning, more voters in Bamako showed up at polling stations after sky cleared starting from the mid-day.
Voters came to choose a new president between former prime minister Ibrahim Boubacar Keita, widely known as IBK, and former finance minister Soumaila Cisse, who battled for the election crucial for the war-torn west African country in want of a fresh start.
Though there are some faults, the regularity and the sincerity of the vote is not to be contested, said Louis Michel, head of the European Union's electoral observation mission in Mali.
"The one who will be elected will be elected with legitimacy, this is my conviction," said Louis Michel, hailing "substantial democratic progress" in this western African country suffering a political and military crisis since 2012.
The poll has been overseen by some 2100 observers deployed by Mali's Pole of Electoral Observation which groups 60 civil society associations, in addition to 50 AU observers, above 100 from the EU, 150 from the Economic Community of Western African States (ECOWAS) and delegations from other international organisations.
A large majority of the observers stayed in 5 of the 8 administrative regions in the south and in the center of the country and in the district of Bamako.
Judged by Edem Kodjo, former prime minister of Togo and head of the African Union observers, Sunday's poll proceeded without major incidents though several technical faults are noted.
"The vote goes on rather well," commented Kodjo in an interview with Xinhua five hours after polling stations opened their doors.
Noting some technical faults, such as "all the seals are not tightened as they should be", the AU chief observer rejected using these to question the results of the election.
"Because each time we noted a problem, we pointed it out immediately and thus had it corrected. After all, there is nothing dramatic in this," he told Xinhua.
Observation is also positive about the voting in the fragile north, where attempts of intimidation by radical separatist were reported during the first round on July 28, especially in Kidal, 1500 km from Bamako.