Edinburgh zoo says giant panda may be pregnant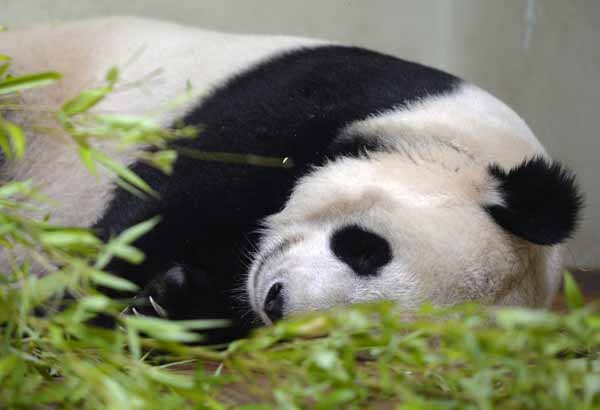 Tian Tian the female giant panda sleeps in her enclosure in Edinburgh zoo, Scotland August 9, 2013. A giant panda at Edinburgh Zoo is showing signs of pregnancy and could give birth within weeks to what would be the first cub from the rare species born in Britain, officials said. [Photo/Agencies]
EDINBURGH - The female panda Tian Tian may be pregnant, the Royal Zoological Society of Scotland (RZSS) said on Friday.
A second hormone rise in progesterone levels was detected in Tian Tian on July 15th, and then confirmed on August 7th, which indicates she may be pregnant or experiencing a pseudo pregnancy, said the RZSS, the conservation charity that owns and manages Edinburgh Zoo. Tian Tian and male panda Yang Guang have been the Zoo residents since December 2011.
The sign means that in around 40 days to 55 days Tian Tian will either give birth to a cub or her false pregnancy will end. If there is a cub, it could be born between late August and early September, said the Edinburgh Zoo press release.
In addition, RZSS are also employing separate cutting edge acute protein analysis techniques, which has only been used in a few female pandas around the world and has been refined further by RZSS and is too early to be classed as definitive or be relied upon, it added.
However, results do seem to suggest the profile of a pregnant panda that will carry to full term, said the RZSS, adding that each week urine samples are flown over the water for special testing.
Since the artificial insemination in April, the Zoo's panda team has continued to monitor Tian Tian closely and at various stages over the last few months she has shown nesting behavior, however both pregnant pandas and pandas experiencing a false pregnancy will do this. An ultrasound did not prove possible as they are totally optional and Tian Tian chose not to participate, said the press release.
Iain Valentine, Director of Giant Pandas for the Royal Zoological Society of Scotland, said "we cannot tell definitively at this stage if Tian Tian is pregnant or not, although we're seeing results that give us cause for encouragement. Tian Tian still may be experiencing a pseudo pregnancy, so it is important to remember that and there is still a need to just watch and wait whilst continuing to monitor her hormone levels."
Further hormone results will be available roughly by mid-August that will add to the picture, if Tian Tian is not pregnant specific hormone levels should drop back down to zero, he added.
Valentine hailed RZSS's efforts for being at the forefront of pioneering giant panda conservation science, noting that the results from the analysis of Tian Tian's hormones will retrospectively add to the collective worldwide scientific knowledge.
The panda team at Edinburgh Zoo is monitoring Tian Tian closely and the panda enclosure is open to visitors as normal.
Yang Guang and Tian Tian arrived at Edinburgh Zoo on December 4, 2011 from China for a 10-year exchange program, after which they will be returned to China. Any panda cubs born during that time will stay with the mother until the age of two before they are handed over to China.