US soldier admits to mass shooting at army base
HOUSTON - The shooter accused of killing 13 and injuring more than 30 others at the Fort Hood Army Base in the US state of Texas in 2009 admitted to committting the violence in front of a jury on Tuesday.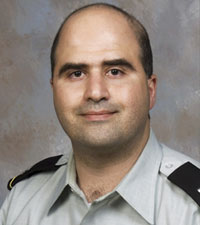 Major Nidal Malik Hasan, the US Army psychiatrist charged in a mass shooting at the US Army post in Fort Hood, Texas, is seen in this undated file handout photo obtained on Nov 6, 2009. [Photo/Agencies]
"The evidence will clearly show that I am the shooter," Major Nidal Malik Hasan, a 42-year-old Army psychiatrist, told the jury, begging his court martial with opening statements that lasted less than two minutes.
"I apologize for any mistakes in this endeavor," he said.
The American-born Muslim had wanted to argue that he shot US troops to protect Taliban fighters in Afghanistan from US assaults. But the judge forbade him from using that defense.
Tuesday's long-awaited trial was held in the heavily fortified military base where armed guards stood in doorways and stacks of shock-absorbing barriers piled around the courthouse. Hasan was interrogated before jurors in a wheelchair as he was shot in the back by military police during the rampage and was paralyzed from the waist down.
Hasan fired his lawyers and acted as his own attorney. He had released several statements prior to the trial, explaining his motive and criticizing the US government's "anti-Islam" policies.
He faces 13 charges of premeditated murder and 32 charges of attempted premeditated murder in the November 2009 attack at the Texas Army base.
Hasan could be sentenced to death if convicted. The last execution carried out by the US military was in 1961.