Pakistanis adapt to everyday heightened security
Roadblocks are almost everywhere in the Pakistani capital of Islamabad. It is a scene that reminds every visitor from abroad how everyday life has been profoundly reshaped by terrorist attacks.
After navigating the roadblocks, drivers approach checkpoints manned by local officers who conduct security checks to verify the identity of the people and their vehicles.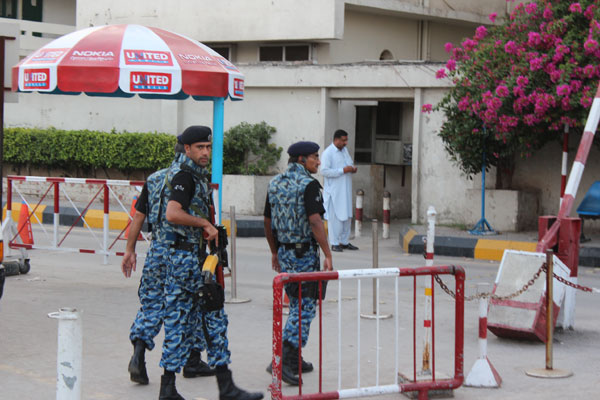 A security squad guards the entrance to Islamabad International Airport. [Zhang Yunbi / China Daily]
There are usually five roadblocks placed in an "S" pattern at each checkpoint to alert drivers that they need to slow down.
But the driver of our bus, a local man in his 60s with a white beard, is an expert in negotiating the difficult turns, and he drove through the roadblock quickly and safely, showing no signs of hesitation behind the wheel.
Anyone checking into a hotel or heading to a department store for a shopping spree must undergo security screening these days. It is compulsory, and a fact of life.
Even the five-star Serena Hotel, where British Prime Minister David Cameron stayed in late June, has installed a series of roadblocks at the entrance.
Local residents seem to have become accustomed to the security routine. Shoppers continually line up in an orderly manner to be scanned, and few seem to argue with the security inspectors.
News reports about terrorist attacks and bomb blasts by unknown groups are always in the headlines, but everyday life goes on. The public appears to have developed the ability to react calmly when they see footage of security emergencies on their TV screens.
"There is no major security problem here (in Islamabad) now," said Saqib Ilyas, a 20-year-old security guard.
He said most of the local people and foreigners are now "very cooperative" with the tight security measures.
"A few of the local people may complain about the security checks, and they say, 'I just came in' and 'Why should I take another examination?'" he said.
"In the past there might have been problems, but now the situation is better."
Years of turbulence and violence have seriously damaged local infrastructure, power grids and foreign trade, while slowing the country's industrialization.