US rethinking Putin summit after Snowden move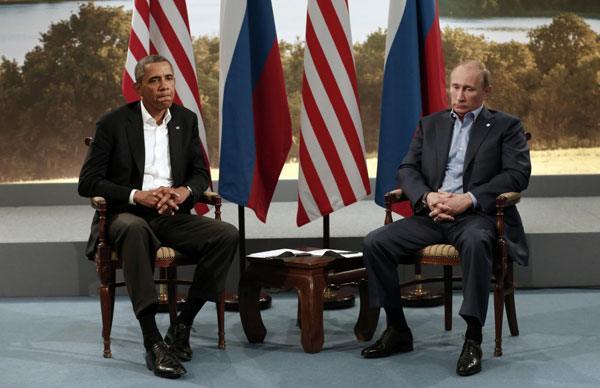 US. President Barack Obama (L) meets with Russian President Vladimir Putin during the G8 Summit at Lough Erne in Enniskillen, Northern reland June 17, 2013. [Photo/Agencies]
WASHINGTON - President Barack Obama is rethinking whether to hold a summit in Moscow with President Vladimir Putin next month after Russia rejected US pleas and gave temporary asylum to former American spy agency contractor Edward Snowden, the White House said on Thursday.
White House spokesman Jay Carney said Obama and US officials are "extremely disappointed" by Russia's decision to give Snowden a one-year asylum in the face of entreaties from American officials to expel Snowden back to the United States to face espionage charges.
The Russian move also appeared to have put in doubt high-level talks scheduled for next week between US Secretary of State John Kerry, Defense Secretary Chuck Hagel and their Russian counterparts. These talks are now "up in the air," a US official told Reuters, speaking on condition of anonymity.
But the Obama administration's response to Russia's move was restrained compared to the swift retaliatory steps urged by US lawmakers, including allies of Obama.
Snowden in June disclosed previously secret US telephone and internet surveillance programs while in Hong Kong and then traveled to Russia, where he holed up in an airport for weeks.
Russia's move raised questions about the policy of "resetting" US relations with Russia that Obama embarked on after taking office in 2009, and put pressure on Obama to react decisively to what many saw as a Russian rebuke.
Obama's first major decision is whether to go ahead with a one-on-one summit with Putin in Moscow next month in advance of a summit of G20 leaders in St. Petersburg.
"We are evaluating the utility of a summit, in light of this and other issues, but I have no announcement today on that," Carney told reporters.
Obama currently plans to participate in the St. Petersburg event, but is giving no indication of going ahead with the Moscow summit with Putin. Face-to-face talks between Obama and Putin in Northern Ireland in June were tense. The two disagree over Syria, Russia's human rights record and other issues.