Sharif's ally elected president
Mamnoon Hussain, a veteran Pakistani politician and Prime Minister Nawaz Sharif's trusted ally, was elected president on Tuesday in a vote by legislators for the largely ceremonial post of head of state.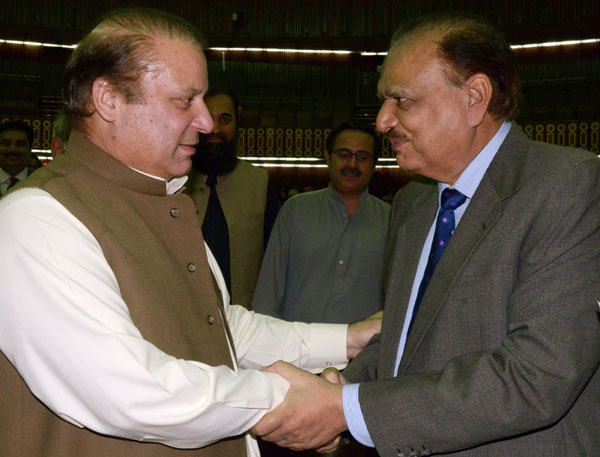 Pakistani Prime Minister Nawaz Sharif (left) shakes hands with newly elected Pakistan President Mamnoon Hussain at the parliament house in Islamabad on Tuesday. Hussain will be sworn in on Sept 9. Agence France-Presse
Hussain, 73, will be sworn in on Sept 9 at the presidential palace due to be vacated by incumbent Asif Ali Zardari, who is stepping down at the end of his five-year term.
Ousted in a bloodless coup in 1999, Sharif's Pakistan Muslim League-Nawaz party swept back into power in a May vote that marked the first transition between civilian governments in a country ruled by the military for more than half its history.
The new president was elected by an electoral college made up of members of the two houses of parliament and assemblies in Pakistan's four provinces.
Given its dominance in parliament, the PML-N was guaranteed a walkover even before the main opposition party, the Pakistan People's Party, announced it was boycotting the vote to protest against a change in the election schedule.
Hussain won easily in the provinces of Punjab, Sindh and Baluchistan and received 41 out of 110 votes in Khyber Pakhtunkhwa. He won 277 of 311 votes in the upper and lower houses of Parliament, emerging as the clear winner.
Hussain, who will be president for five years, resigned his membership of the PML-N soon after the election results were announced, in what is seen as a symbolic move to establish himself as a nonpartisan president.
Traditionally, presidents have been figureheads in Pakistan, although Pervez Musharraf wielded extensive power when he held the post. Under Zardari, the presidency was largely stripped of power though he enjoyed considerable influence in the previous administration.
The party Zardari heads, the PPP, was elected in 2008 on the back of a sympathy vote after his wife, the popular ex-prime minister Benazir Bhutto, was assassinated after returning from self-exile.
His leadership of the ruling party gave him influence, but Zardari still came under considerable criticism as Pakistan lurched from crisis to crisis, its economy crippled by power cuts and security undermined by a growing insurgency.
Zardari will lose his immunity as head of state when he steps down. He was once charged with conspiracy to commit murder after his brother-in-law, Murtaza Bhutto, was killed in 1996, but he denied any wrongdoing and was never convicted.
However, after his wife's government collapsed in late 1996, he was arrested and charged with corruption, accused of taking kickbacks in deals involving a Swiss company.
He was never convicted and denies the charges, but he spent the next eight years in jail. In 2009, the Supreme Court scrapped an amnesty law that dismissed corruption charges against thousands of Pakistani politicians, including Zardari.