Driver of derailed train charged with homicide
SANTIAGO DE COMPOSTELA, Spain - The driver of a Spanish high-speed train that derailed and killed 79 people was released pending trial on charges of reckless homicide, a judge ruled on Sunday night.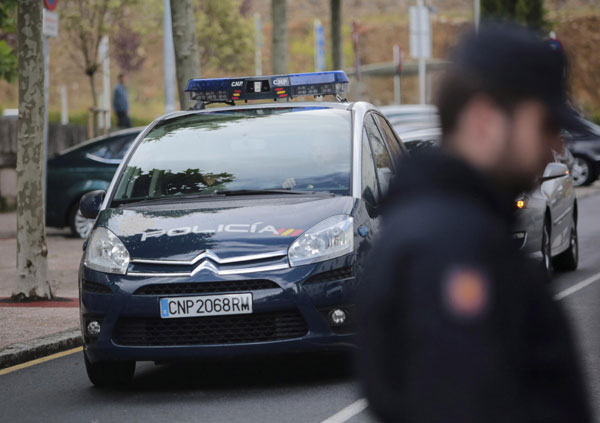 A police car arrives at the courthouse with Francisco Garzon inside in Santiago de Compostela, northwestern Spain, July 28, 2013. Garzon, 52, the driver of a Spanish train that derailed at high speed was taken before a judge for questioning as officials try to determine to what degree he was responsible for the deaths of 79 people in the accident. [Photo/Agencies]
Francisco Garzon, 52, had been under arrest since Thursday. He is suspected of driving the train too fast through a tight curve on the outskirts of the northwestern Spanish city of Santiago de Compostela.
Examining Magistrate Luis Alaez formally charged Garzon with "79 counts of homicide and numerous offences of bodily harm, all of them committed through professional recklessness," the court said in a statement.
In a closed-door hearing before Judge Alaez, Garzon admitted taking the curve too fast, blaming it on a momentary lapse, according to media reports.
Alaez set the following conditions of release: Garzon must check in regularly with the court, surrender his passport and not drive trains.
None of the parties in the case, which include state train operator Renfe, state railway firm Adif and two insurance companies, had asked for Garzon to be jailed pending trial, and he was not seen as a flight risk, the court statement said.
At 8:41 pmon Wednesday the eight-carriage, high-speed train slammed into a concrete wall, crumpled, and some of the cars caught fire. The impact was so strong that one of the carriages was thrown several meters high over an embankment.
The death toll from Spain's worst train disaster in decades rose to 79 after one injured person - a woman from the United States - died on Sunday.
Seventy people remain hospitalized with injuries from the crash, 22 are in critical condition.
Garzon has worked for Renfe for 30 years, 10 as a driver. His father also worked on the rails and he grew up in Renfe-owned housing in the northwestern town of Monforte de Lemos and went to school with other train-workers' children.
After the accident he was hospitalized with a head injury. On Saturday he was released from the hospital but remained in police custody until he was taken to the hearing at Santiago de Compostela's main courthouse.
Neither lawyers nor members of Garzon's family could be reached for comment.
Alaez has been assigned to investigate the case and will also look at whether the train, the tracks or the security system that slows down the trains were at fault.