Death toll of Egypt's clashes rises to 139
Death toll of clashes erupted late Friday between supporters and opponents of Egypt's ousted president Mohamed Morsi has climbed to at least 139 on Saturday, the Muslim Brotherhood (MB) and local media said.
At least 120 people were killed and more 4,500 others wounded, most of them suffered gunshot wounds in confrontations between pro-Morsi protesters and security forces in the Naser street, near in Nasr City's Rabaa al-Adaweya mosque, the MB said in a statement posted on its official website Saturday.
The statement quoted Hisham Ibrahim, the hospital field's manager in al-Adaweya mosque, as saying that most of the cases were shot in the head, neck and chest by snipers, and they are facing a "shortage in medicine due to the heavy casualties."
The police forces started to shoot at the pro-Morsi sit-ins at 2 am local time (GMT 0000), to disperse the crowds after the later erected tents around the Memorial in Naser street, which is a military site, a Xinhua correspondent at scene said.
The hospital field's equipment is too poor to treat the severe wounded cases, eyewitnesses said, noting an 11 year-old boy was shot dead in his neck.
While sippers on the roof of the nearby Azhar university were shooting, the protesters responded with stones, he added.
On Friday, clashes erupted between supporters and opponents of Morsi in Alexandria and other governorates, leaving at least 19 people dead, according to state-run news agency MENA.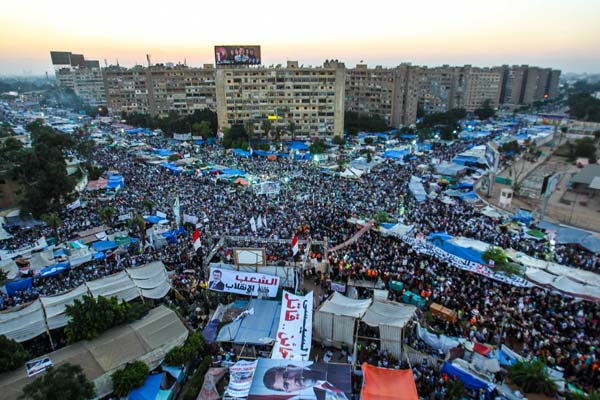 Protesters chant slogans as they gather for a mass protest to support ousted President Mohamed Morsi in Cairo July 26, 2013. [Photo/Xinhua]