Japan looks to ASEAN for support to Abenomics
SINGAPORE - Japanese Prime Minister Shinzo Abe tried to drum up support for his economic reforms on a visit to Singapore on Friday, saying that he saw boosting cooperation with Southeast Asian nations as an important part of his plan.
Speaking at a lecture, Abe said winning the election in the upper house of the Diet recently will give him the political stability that is much needed for Japan to continuing pursuing the economic reforms he has been promoting, which was dubbed Abenomics.
"I feel that through this recent election, we now at long last hold in our hands the trigger for pointing both politics and the economy towards a better and then still better direction," he told a big audience in Japanese.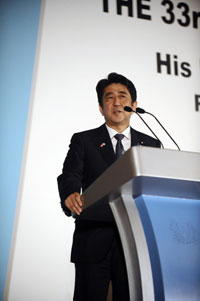 Japan's Prime Minister Shinzo Abe speaks during the 33rd Singapore Lecture at The Ritz Carlton in Singapore July 26, 2013.[Photo/Agencies]
The Japanese prime minister said that from now on, he will be engaged in firing off the "third arrow" of his economic revitalization plans, as Japan needs bold regulatory reforms that he was hoping to give the economy the much needed growth.
He was also hoping for Japan's participation in the comprehensive but controversial Trans-Pacific Partnership (TPP) to serve as an external catalyst to open up the economy to competition.
Abe said he saw Japan experiencing a negative chain of weakening over the past years, with deflation leading to a shrinking tax base, which made it challenging for the Japanese government to maintain its public finances without relying on government bonds.
The three arrows in Abenomics were monetary policy, fiscal policy and a strategy for growth, he said.
The Japanese prime minister said deflation is a monetary phenomenon and, therefore, he put in place the plan to significantly increase the money base. The expansionary fiscal policy will give Japan the much needed growth to get out of the negative chain.
Nevertheless, Abe acknowledged that he has "still done nothing more than head to the starting point."
"Implementing reforms will be the first and foremost political issue for us to tackle starting this autumn. We need to fortify the Japanese economy in substantial ways and increase real income. At the same time we must put public finances on a sustainable course," he said. "We must not lose our momentum."
Abe said that there had been clear signs of improvement in the real economy, citing the annualized growth of 4.1 percent in the first quarter this year, compared with a contraction in the third quarter last year.
While admitting that the Japanese economy may have shown signs of improvement in the short term, observers also pointed out that, for the Japanese economic growth to be sustained, tough reforms will be needed. Some also questioned whether the substance of the reforms can be achieved.
The stimulating expansionary policies may also turn out to be a shot with potential negative consequences if it does not succeed, they said.
Abe also vowed to tackle the agricultural and medical sector in his reforms.
"We will advance regulatory reforms in the fields of electricity, agriculture, and medical services while promoting new services and new industries. From there, we will elicit the vitality of the Japanese economy," he said.
He also called for foreign investments in Japan, saying that he was hoping for his country to catch up or even overtake Singapore in terms of being business-friendly.
He said that he saw demand in emerging economies for Japan's knowhow in hospital operation and management and medical insurance.
Even the agricultural sector can be successfully reformed by stimulating innovation and seeking markets outside Japan, he said, citing the examples of Japanese fruit and beef.
Abe said he saw growing the cooperation with ASEAN (Association of Southeast Asian Nations) as an important part of his plan.
Speaking to reporters after meeting Singapore Prime Minister Lee Hsien Loong, Abe said he wants to embrace the vitality of the ASEAN region in revitalizing the Japanese economy.
Abe and Lee said that they confirmed that they should promote cooperation in infrastructure.
Abe said he wants to promote strategic diplomacy that will contribute to regional peace and stability.
While both reaffirmed the excellent bilateral relationship and dwelled largely on economic cooperation, Lee expressed hopes that the concerned countries in territorial disputes will manage the differences peacefully, and that the issues should not affect the overall stability of the region.
Abe also said that the deep economic cooperation between China and Japan means that the two neighbors were not separable, though challenges are inevitable.
Abe also held a closed-door bilateral meeting with visiting US Vice-President Joseph Biden on Friday.
The Japanese prime minister arrived in Singapore on Friday from Malaysia, and is expected to continue with his regional tour in the Philippines.