Plane's front gear collapses in LaGuardia landing
NEW YORK — The front landing gear of a flight arriving at New York's LaGuardia Airport collapsed Monday shortly after the plane touched down on the runway, leaving several people with injuries, officials said.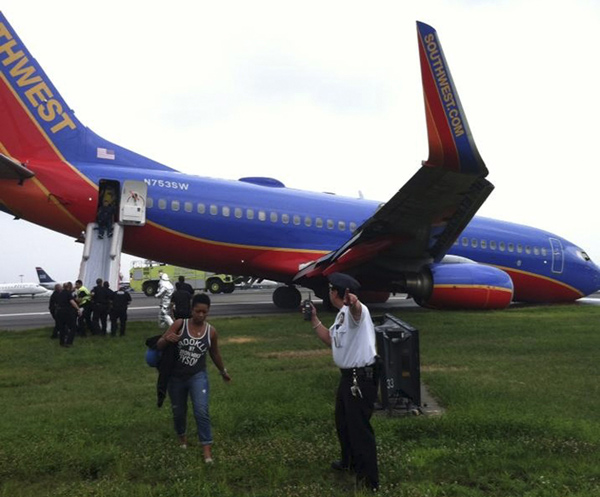 A Southwest Airlines plane sits on the tarmac as passengers disembark at LaGuardia airport in New York, July 22, 2013, in this photo courtesy of @mattjfriedman and Frank Ferramosca. [Photo/Agencies]
The Southwest Airlines flight coming from Nashville, Tenn., was carrying 150 passengers and crew, the airline said. The airline said initial reports had five passengers and three crewmembers requiring medical assistance. There was no immediate word on the extent of the injuries.
The Federal Aviation Administration said Flight 345 landed at 5:45 p.m., and came safely to a stop at the edge of the runway. The nose of the Boeing 737 could be seen on the ground.
The airport was temporarily closed, but one of two runways was operating shortly after 7 p.m.
The FAA is investigating, as is the National Transportation Safety Board.
Richard Strauss, who was on a nearby plane waiting to take off for Washington, said the nose of the plane was "completely down on the ground. It's something that I've never seen before. It's bizarre."
A rear stairwell or slide could be seen extending from the Southwest flight, said Strauss, who owns a Washington public relations firm. His plane, which was about 100 yards from the Southwest flight, wasn't allowed to taxi back to the gate, he said.
Bobby Abtahi, an attorney trying to catch a flight to Dallas, was watching from the terminal and heard a crowd reacting to the accident.
"I heard some people gasp and scream. I looked over and saw sparks flying at the front of the plane," he said.
The incident came 16 days after Asiana Flight 214 crash-landed at San Francisco's international airport on July 6, killing two Chinese teenagers; a third was killed when a fire truck ran over her while responding to the crash, authorities said. Dozens of people were injured in that landing, which involved a Boeing 777 flying from South Korea.