Abe has chance to show true colors after big win
TOKYO - Japanese Prime Minister Shinzo Abe's ruling coalition scored a decisive victory in an election on Sunday -- so big that there are suspicions he will lose interest in difficult economic reforms and pursue his nationalist agenda instead.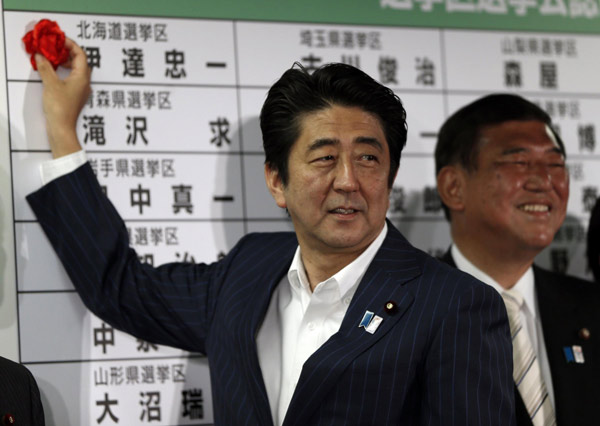 Japan's Prime Minister Shinzo Abe (L), who is also the leader of the ruling Liberal Democratic Party (LDP), puts a rosette on a name of a candidate, next to the party Secretary-General Shigeru Ishiba, at the party headquarters in Tokyo July 21, 2013. [Photo/Agencies]
The victory in the vote for parliament's upper house gives Abe a stronger mandate for his prescription for reviving the stagnant economy. Ironically perhaps, it could also give lawmakers in his own party, some of whom have little appetite for painful but vital reforms, more clout to resist change.
Public broadcaster NHK said early on Monday that Abe's Liberal Democratic Party (LDP) and its partner, the New Komeito party, had won at least 74 of the 121 seats up for grabs in the 242-seat upper house.
With the coalition's uncontested 59 seats, that ensures it a comfortable majority, tightening Abe's grip on power and raising the chances of a long-term Japanese leader for the first time since the reformist Junichiro Koizumi's rare five-year term ended in 2006.
It also ends a parliamentary deadlock that began in 2007 when Abe, then in his first term as premier, led the LDP to a humiliating upper house defeat that forced him to resign two months later. But the LDP fell short of a majority on its own on Sunday.
Abe, who returned to power after his coalition's big win in a December lower house poll, repeated on Sunday that he would focus on fixing the world's third-biggest economy with his "Abenomics" mix of hyper-easy monetary policy, fiscal spending and a growth strategy including reforms such as deregulation.
"We've argued that our economic policies aren't mistaken, and the public gave us their support. People now want to feel the benefits. The economy indeed is improving," a weary but confident-sounding Abe said at LDP headquarters late on Sunday after his ruling coalition's victory was assured.
"We'd like to do our best to generate a positive cycle -- in which job conditions improve and wages rise, boosting personal consumption and prompting companies to invest more -- as soon as possible," he added.
But some, including Japanese businesses with a big stake in the matter, worry the hawkish leader will shift to focus on the conservative agenda that has long been central to his ideology.
That agenda includes revising the post-war pacifist constitution, strengthening Japan's defence posture and recasting Tokyo's wartime history with a less apologetic tone.
For now, many experts suggest, Abe is unlikely to turn his back on economic matters as he tries to beef up his so-far disappointing economic reform plans. He also confronts a decision on whether to go ahead with raising the 5 percent sales tax to 8 percent next April, part of a planned doubling by October 2015 aimed at reining in Japan's massive public debt.
"My understanding is that Abe-san has three faces: Abe as right-wing, Abe as a pragmatist, Abe as the economic reformer," said Shinichi Kitaoka, president of the International University of Japan. "He has been showing the third face so far and will try to do the same after the election."
Despite the hefty win, the strength of Abe's mandate was diluted by low voter turnout. Media said turnout was well below the 57.92 percent seen in the last upper house poll in 2010. That could keep up pressure to stay focused on the economy.
Still, Abe is moving toward security policy changes that mark a big shift in a country that has prided itself on pacifist ideals even as it built up a military bigger than Britain's.