Wall of Honor unveiled for Mandela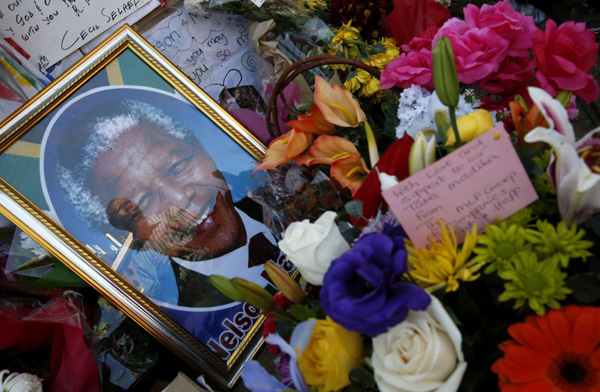 A well-wisher is reflected in the glass of a photograph left outside the hospital where ailing former President Nelson Mandela is being treated in Pretoria, July 16, 2013. Mandela turns 95 on July 18. [Photo/Agencies]
CAPE TOWN - The Wall of Honor was unveiled in Cape Town on Wednesday to allow people to place well-wish cards and notes for ailing former South African president Nelson Mandela.
This came before Mandela turns 95 on July 18, which is also the Nelson Mandela International Day.
Children and others can put well-wish notes and greeting cards on the Wall of Honor which has a large picture of Mandela.
Children can also have their pictures taken with Mandela's picture in the background.
Those who do bring messages of support and good wishes are also encouraged to bring food parcels to leave at the church for distribution by the church to the needy.
The Wall of Honor was a joint work by the Congress of South African Trade Unions (COSATU) and the Church at St Georges Cathedral.
"This Wall of Honor presents an important opportunity for the people of Cape Town to present their greetings and wishes to Mandela in a place of worship," COSATU said.
The union federation said its 2.2 million members will be out in force on Mandela's birthday to devote their 67 minutes to the service of their disadvantaged fellow South Africans.
The best way to celebrate Mandela's birthday is to address the pressing needs and basic challenges still faced by South African people, COSATU said.
This year's Nelson Mandela International Day will take place with the theme of "Take action; inspire change; make every day a Mandela Day" with a focus on food security, shelter and literacy.
Individuals, groups and corporates are encouraged to spend 67 minutes of their time giving back to their communities and helping to make a difference in the lives of the less privileged.
Mandela, who served as South Africa's first black president from 1994 to 1999, has been hospitalized since June 8 for a recurring lung infection, his longest hospital stay in years.
He remains in a critical but stable condition, according to the latest official update on his health.