Muslim Brotherhood under more pressure
CAIRO -- Egypt is expected to receive US Deputy Secretary of State William Burns on Monday, the first senior US official to visit the country since the ouster of president Mohamed Morsi.
According to a US State Department statement, Burns will meet Egypt's interim government officials and representatives of the military and various civil groups.
"In all these meetings, he will underscore US support for the Egyptian people, an end to all violence, and a transition leading to an inclusive, democratically elected civilian government," the statement said.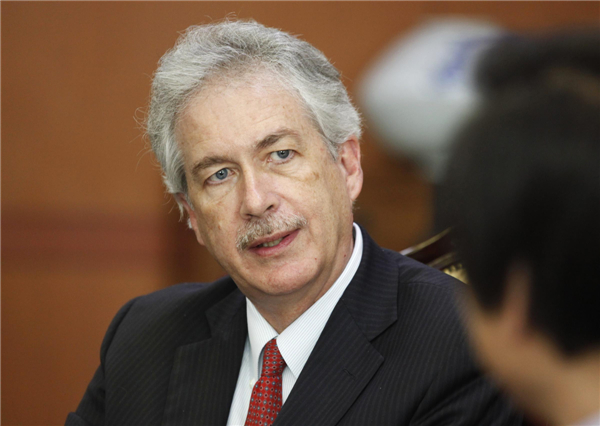 File photo of US Deputy Secretary of State Burns talking in Seoul on April 27, 2013.[Photo/Agencies]
During his stay in Cairo, Burns will probably also hear the announcement of the full list of cabinet members for the interim government, which is mandated to run the country and prepare for general elections within six months.
With Mohamed ElBaradei sworn in on Sunday as the country's vice president for international relations, the most populous Arab country is one step closer to the installation of an interim cabinet mainly comprised of technocrats and liberals.
With Morsi supporters continuing to press for the return of the deposed president, the top echelon of Morsi's Muslim Brotherhood (MB) has come under increasingly tighter scrutiny by the authorities.
In a new blow to the pro-Morsi camp, the former MB chief Mahdi Akef was ordered Sunday to remain in custody for four days pending investigations over charges of insulting the judiciary.
Mohamed Saad al-Katatni, head of the MB's Freedom and Justice Party, was released Sunday after paying a fine of 5,000 Egyptian pounds (about 715 US dollars) in the same case.
Both Brotherhood leaders, along with others, were arrested for inciting violence following the ouster of Morsi on July 3.
The public prosecutor's office earlier ordered a freeze on the assets of 14 MB leaders after earlier issuing travel bans on Morsi and 35 other MB members, citing their alleged role in the killing of protesters.
Morsi's supporters have been staging a sit-in in Cairo since his removal and vowed open-ended protests until he is reinstated.
The MB said Monday it planned to mobilize a nation-wide rally for the return of Morsi, who they claim was removed by a military coup.
Defending the military's action to oust Morsi, Defense Minister Abdel-Fattah al- Sisi said Sunday the role of the armed forces was "to take orders from the people not to give them orders."
He said the military offered Morsi the opportunity to hold a referendum before June 30 to let voters decide if he deserved to stay in the presidency, but Morsi refused.
"The armed forces approached the political process because the people demanded that from the army," said Sisi, noting the people realized only the military was capable of correcting "deviated courses."